#ChasingArt
Muppets!
by Karen Gormandy, Fountain House Studio Director
"Life is meant to be fun, and joyous, and fulfilling."
― Jim Henson, It's Not Easy Being Green: and Other Things to Consider
This month in conjunction with Toys: Embracing Play at Fountain House Gallery, we took off chasing objects of play. There were five of us: Louise, Lauren and her mother Karen, Guiomar, Arturo and Aracelis. We found a universe of playfulness at the Museum of the Moving Image's The Jim Henson Exhibition.
Long Island City is not only the home of Fountain House Studio but along with neighboring Astoria, it is the home of many iconic film studios. Two most noteworthy are Silvercup Studios, one of the largest film and television production facilities in New York City and The Kaufman Astoria Studios. Television shows filmed at Kaufman include Law & Order, Orange is the New Black and Sesame Street. It makes sense that The Museum of the Moving Image is right across the street.
The Museum of the Moving Image is a media museum. It opened in 1988 as the American Museum of the Moving Image and focuses on art, history, technique and technology of film and television, and digital media. In 2017, the museum opened The Jim Henson Exhibition, a permanent exhibit of the legacy of Jim Henson.
Jim Henson entered the world of puppetry in high school. After studying two books on the subject he was hired as a puppeteer on a local television series. The show aired in 1954 for only two episodes. Nonetheless Henson's performance garnered attention and one of the producers invited him to perform on several variety shows.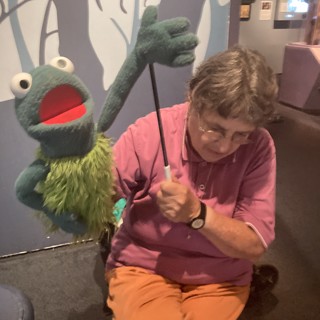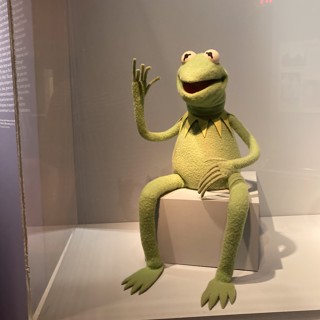 Kermit the Frog was introduced in 1955 in Sam and Friends, a live action sketch comedy lead-in to The Tonight Show, co-created with Henson's eventual wife Jane Nebel.
Sam, the main character of Sam and Friends was a bald-headed, big-eared human. His friends included Yorick, Harry the Hipster, Professor Madcliffe, Chicken Liver, and a lizard-like character named Kermit (who later evolved into Kermit the Frog). Kermit along with Rowlf the Dog also appeared in several late-night talk shows. Rowlf was the first Muppet character to appear regularly on network television when he began appearing with Jimmy Dean on The Jimmy Dean Show. Audiences were adult and content was created accordingly.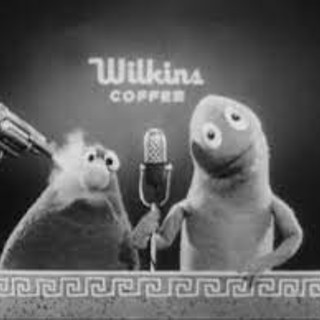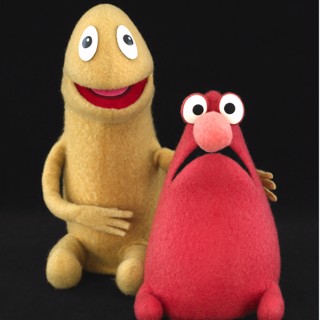 Early Henson characters, Wilkins and Wotkins
In 1957 Henson created Wilkins and Wontkins two over the top hilarious characters to advertise coffee. The two went on to be featured in more than a dozen other products. Delbert the La Choy Dragon followed in 1965 to irreverently advertise canned Chinese food.
Henson's troupe subsequently expanded to include designers builders, writers and performers. The word 'Muppet', a combination of marionette and puppet was invented by Henson to describe his creations. In 1958, he co-founded Muppets, Inc. with Jane; it later became The Jim Henson Company. The rest is history.
In 1969, Henson joined Sesame Street, the first preschool educational television program to base its contents and production values on laboratory and formative research. Henson, initially reluctant, eventually agreed to join. Henson's puppets soon became a crucial part of the show's popularity and it brought Henson national attention. In early research, the Muppet segments of the show scored high and more Muppets were added during the first few seasons. Henson's was able to incorporate adult references into learning tools. Characters were based on real people from Placido Domingo to Marlene Dietrich.
Henson never abandoned his adult audience. In 1975 his creative team appeared on the first season of Saturday Night Live.
In 1976, The Muppet Show introduced new characters such as Miss Piggy, Fozzie Bear, and Gonzo. Aired in first-run syndication in the United States, The Muppet Show became increasingly popular due to its sketch-variety format, unique form of vaudeville-style humor, and prolific roster of guest stars. Originally the producers had to call on their personal contacts asking them to appear, however, when Rudolf Nureyev appeared on the show, everything changed.
The episode featured two raunchy sketches; a dance number SWINE LAKE, Nureyev's interpretation of Swan Lake, where he dances with a full size Miss Piggy intent on hogging the spotlight. Needless to say there are a lot of miss steps and squirm worthy moments. Even more hilariously squirm worthy was "Baby It's Cold Outside" in which Miss Piggy subjects an unwilling towel clad Nureyev to relentless flirtation. He ends up fleeing, leaving miss Piggy holding his towel.
The episode produced so much favorable publicity that the show became one of the most sought after by celebrities. Guests on the show included Steve Martin, Sylvester Stallone, Julie Andrews, Carol Burnett, Liza Minnelli, Christopher Reeve, Raquel Welch, Don Knotts, Liberace, Lena Horne, Zero Mostel and Vincent Price, Elton John, Diana Ross, Harry Belafonte, Kenny Rogers, Linda Ronstadt, Alice Cooper, Paul Simon, Debbie Harry and John Cleese.
Mark Hamill appeared in one episode as both himself and Luke Skywalker. In 1977, Rita Moreno won an Emmy Award for her appearance on the show. The episode was screening at the Museum's King Tut Theatre. Guiomar, Louise, Arturo and I were lucky enough to see it.
The Muppet Show went on to receive twenty-one nominations for Primetime Emmy Awards, the show won four, including Outstanding Variety Series in 1978. The Muppet Movie was subsequently released in 1979.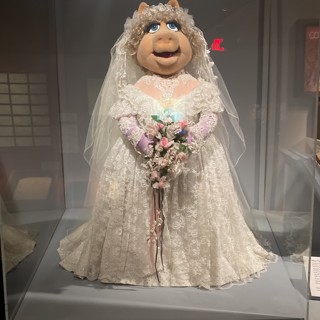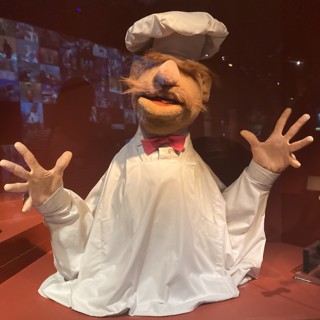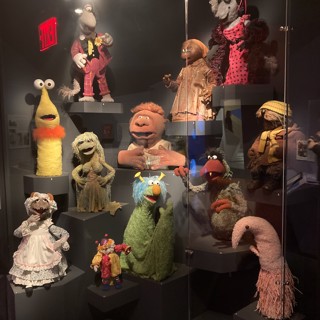 Miss Piggy, Swedish Chef, and a whole bunch of Muppets
Henson went on to establish the Jim Henson Foundation and Jim Henson's Creature Shop. He won the Emmy Award twice for his involvement in The StoryTeller (1987–1988) and The Jim Henson Hour (1989).
Many of the artifacts at the museum were donated by the Henson family. Videos of Henson's process, his tenacious experimentation, his wit and story telling skill were interspersed throughout. What began as a simple hand puppet evolved into the fantastical worlds of the Dark Crystal and Labyrinth. Dark Crystal was released in 1982 and Labyrinth followed in 1986. Labyrinth was directed by Henson with George Lucas as executive producer. David Bowie was superbly cast as Jareth, the Goblin King.
Jim Henson's legacy spanned many generations; from The Count teaching pre-schoolers how to count to the ever cantankerous and irrelevant Statler and Waldorf - Henson left a legacy of wonder, laughter, wit and fun. ●
The Jim Henson Exhibition is an ongoing permanent exhibition.
The Museum of the Moving Image
Open Thursdays through Sundays
2 - 6PM (open til 8PM on Fridays)
36-01 35th Avenue
Queens, NY 11106
For tickets and info, click here.
#ChasingArt is a blog series by Fountain House Studio Director, Karen Gormandy, that reveals highlights and thoughts from our monthly museum trips.
On the third Saturday of each month, Fountain House Studio invites its members on an excursion to visit one of the hundreds of art museums across New York City. Read about past trips here.
Want to learn more about the Fountain House Studio? Visit Studio.
Photos courtesy of The Museum of the Moving Image, Karen Gormandy, NYC-ARTS, TV Tropes, Variety, and The Baltimore Sun.