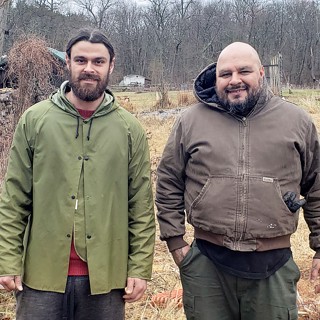 Fountain House Gallery & Studio offers an annual Farm Retreat for artists of Fountain House.
Each year, Fountain House artists are invited for a weekend-long retreat to our very own Fountain House Farm at High Point in Montague, N.J. A refuge of 477 acres of preserved woodland, the Fountain House Farm is a place where artists experiencing serious mental illness can benefit from the strong link between mental health and nature, all while contributing to a sustainable, eco-friendly farm that produces farm-to-table seasonal produce and goods.
At the Farm Retreat, artists can participate in a variety of activities, including plein air art-making, farm-to-table cooking and meal planning, nature walks, meditation, feeding of our resident animals (turkeys, chickens, llamas, alpacas, cows, goats) and much more.
"The Farm has helped me feel useful, which has helped me find stability. It's definitely kept me busy and I'm a more grounded, more stable, wiser person because of it. It's helped my health so much. I've been able to focus on the mental part of my health and the physical and it's made a big difference. I don't take it for granted."
- Rene Santiago, Fountain House artist