#ChasingArt
Every Month is Women's History Month
by Karen Gormandy, Fountain House Studio Director
The weather was fine; a sunny preview to Spring. It was still March and apart from March hosting the advent of spring, March is also Women's History Month. Arturo, Louise, Silvia, Alyson and I were chasing art by living women. The show, Women Celebrate Women, was on the Upper East Side at PS109 and featured Alyson's work.
El Barrio's Artspace PS109 is a community-based art facility. Formerly a public school, it was designed by Charles B.J. Snyder and completed in 1898. It's five stories tall with a steeply pitched roof, copper-clad cupolas, and a wealth of newly restored decorative terra cotta. Today, the building has 90 units of affordable live/work housing for artists and their families, as well as 10,000 square feet of complementary space for arts organizations.
It was a quiet morning and Alyson arrived to give us a personal tour. The walkway to the building was recessed and ceremonial — as if designed to anticipate an experience. The entrance was double doored and upon entering, you immediately shut out the outer world and become immersed in the art.
The first floor space of the gallery was spacial and well lit.
Alyson Vega has been part of Fountain House's art community for many years. Smart and extremely funny, she is prolific, talented and can't stop making art.
Guided by Alyson, we made our way around the floor. The space was perfect to linger and take in all of the incredible pieces. The perimeter of the room was lined with meaningful, superbly crafted and soulful art. There were also a few free standing pieces interspersed in the room. Each piece transcendently personal and universal.
A relief of a women's profile with hair made of indigo, black and green cassette tapes hung on one wall. Wearing headphones, her chin jutted forward. She was simultaneously defiant and joyful.
A fabric piece of two girls, making their way across a field of bright red patterned flowers was poetic and nostalgic. It looked like an illustration of Toni Morrison's work and the joy of black girlhood.
We made our way downstairs where Alyson's powerful piece hung by the elevator. Giving us a dose of the physicality of the female body, the piece was primarily fabric with two prominent heart shapes. One housing the breast and the other, a blood stained uterus.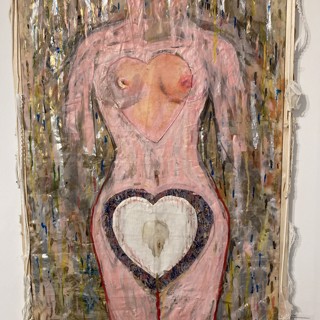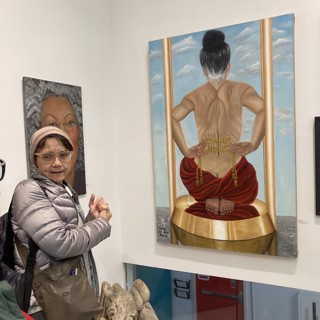 Warrior womanhood was also prominently featured. A metal female breastplate with an ornate decorative belt glistened.
Then there were coat hangers. Anyone paying attention to the news can surmise what that means.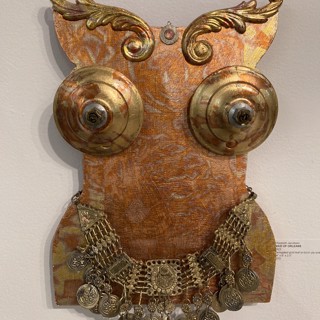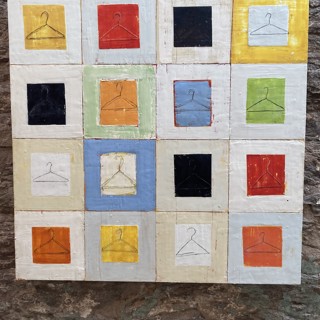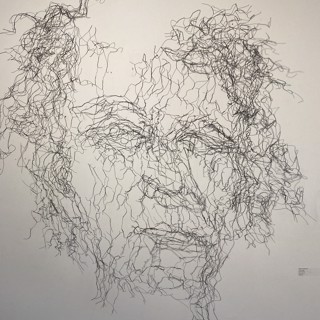 Walking down the hall a tangle of wire looked back at us, The tangle emerged as a face.
Alyson's piece was eventually sold to a lucky art appreciator. It's no longer March and the show has since closed. But every month is Women's History Month and we can acknowledge and celebrate women artists each and every day. ●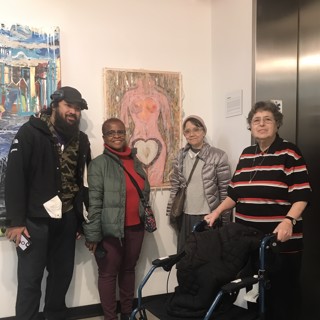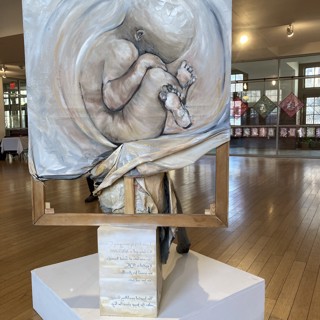 Women Celebrate Women is on view through March 31, 2023.
El Barrio's Artspace PS109
Open daily
11 am–6 pm
215 E. 99th Street
New York, NY 10029
For tickets and info, please visit artspace.org/ps109.
#ChasingArt is a blog series by Fountain House Studio Director, Karen Gormandy, that reveals highlights and thoughts from our monthly museum trips.
On the third Saturday of each month, Fountain House Studio invites its members on an excursion to visit one of the hundreds of art museums across New York City. Read about past trips here.
Want to learn more about the Fountain House Studio? Visit Studio.