#ChasingArt
What is it, was and shall be!
by Karen Gormandy, Fountain House Studio Director
The day was cold. It was also the day of Sally Fisher's memorial service. Several of the artists were waiting in front of the museum, wrapped up against the cold. The line for entry stretched to the end of the block. When I explained to the guard who we were, they allowed us to circumvent the line and go right in.
The museum was crowded. That cold bittersweet Saturday we were off chasing the work of Nick Cave at the Guggenheim.
Nick Cave was born in 1959 in Fulton, Missouri. He is internationally renown for his elaborate installations, textiles and soundsuits that blend sculpture, costume design, and instrument-making. The show, playfully entitled Forothermore, opened in November and is the artist's statement around creating spaces for marginalized people.
The Guggenheim is a particularly interesting piece of art in and of itself. Designed by Frank Lloyd Wright, its cyclical rotunda shape can be off putting. The floor slopes and subsequently the art is not hung perpendicular to neither floor nor ceiling.
Nick Cave's work occupied three of the museum's tower galleries, where the level floors are best suited for sculptural work and installations. Inspired by African American greetings, the sections were titled "What It Was," "What It Is," and "What It Shall Be." Myth, legend and history overlapping and blurring the themes of past, present and future.
Photo courtesy of West Harlem Art Fund
"What It Was" is Cave's historical influences—pieces that are brilliantly crammed but far from chaotic. At once meditative yet demonstrating the richness of a time when life was very physical and lived close to the bone. One tactile piece evokes the smell of rust and the muscle and sweat of ancestors working with these materials. In the same room are several pieces comprised of a collection of decorative porcelain pieces, figurines and vintage velvet upholstered furniture. With objects that occupied the spaces of another time, Cave creates connections that present as icons and pay homage.
Photo courtesy of The Guggenheim Museum
"What It Is" explores Cave's practice in dialogue with his lived experience as a queer Black man. The pieces are inspired by political and cultural moments such as the beating of Rodney King and the ongoing Black Lives Matter uprisings. What it is, is a tight grouping of sculptured and carved black faces and black praying hands looking up from a low to the ground platform. "What it is" is a black raincoat over a multitude of bling. It is a black arm emerging out of fake flora to celebrate its fist of power in a burst of metal.
Finally, "What It Shall Be" highlights Cave's creation of utopian alternatives as a strategy for survival in the face of oppression. His Soundsuits are armor's, costumes and expressions. It is about grief, death and loss and how cultures define, celebrate and work through grief, again with and in celebration of, ritual and myth.
Sated and smiling we went to the cafe and in celebration of Silvia's birthday we ended the trip with cake and coffee. ●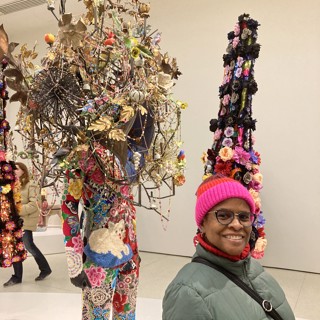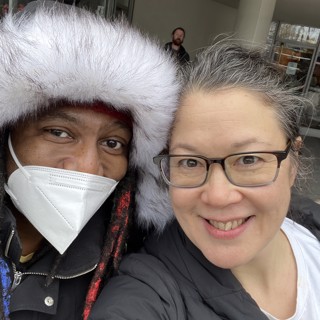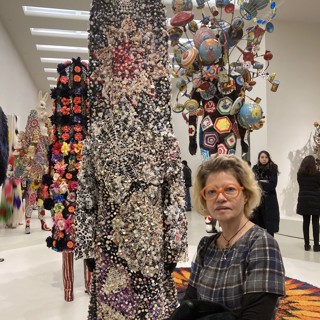 Fountain House members Silvia, DubbleX, Tzu, and Guiomar. Photos courtesy of Karen Gormandy
Nick Cave: Forothermore is on view through April 10, 2023.
The Guggenheim Museum
Open every day
11 am–6 pm
1071 5th Ave
New York, NY 10128
For tickets and info, please visit guggenheim.org.
#ChasingArt is a blog series by Fountain House Studio Director, Karen Gormandy, that reveals highlights and thoughts from our monthly museum trips.
On the third Saturday of each month, Fountain House Studio invites its members on an excursion to visit one of the hundreds of art museums across New York City. Read about past trips here.
Want to learn more about the Fountain House Studio? Visit Studio.