Chasing Art - The Razzle Dazzle Joy of Color
by Karen Gormandy, Fountain House Studio Director
When the elevator doors opened on the sixth floor, none of us knew what to expect. We were told the artists' studios were housed up there and following museum protocol of top to bottom, we started on six.
Boo Lynn was ahead of the the rest of us. Becky, Solange, Stephanie, Tzu, Saverio and I paused to read the Artists in Residence descriptions on the wall.
Boo Lynn came back. "You guys have to got to see this."
We all headed to the studio where a mannequin modeled a Carmen Mirandalike burst of color. We piled into the work lair of Machine Dazzle! Who knows if we filed in, piled in or drifted in, we all moved on a collective cloud of awe. We had a physical intake of breath that temporarily suspended our will and pulled us in to Machine Dazzle's fabulousness!
Machine Dazzle's exhibit - Queer Maximalism x Machine Dazzle - occupied two floors at the Museum of Arts and Design, an innovative museum on Columbus Circle. The museum first opened its doors in 1956 as the Museum of Contemporary Crafts with an original mission of recognizing the craftsmanship of contemporary American artists. Prior to the construction of the the new building, the location was a neoclassical building referred to as "one of New York's most photographed and readily recognizable buildings." The Museum opened in its new home in September 2008 to controversy as the proposed changes sparked a heated preservation debate. In its new incarnation, exhibits span disciplines and genres from a retrospective on the animation of Chuck Jones to midcentury American art and design. The old building may not have been ready for Machine Dazzle.
Machine Dazzle was at work cutting through some thick unknown fabric. He was nonetheless cheerfully welcoming. Everything in the room was gush-worthy and we gushed, asking a multitude of questions and inviting him to the gallery. Still in a cloud of delight, we went down one floor and met Blair.
Dazzle's work is aptly described as a tour de force. The multimedia exhibit of sculptural costumes is an explosion of scale, color, texture, and movement. The themes are unexpected collisions of symbolism and ideas, combining drag and burlesque, using sequins, glitter, feathers, beads and found objects, like ping pong balls, hoop skirts, slinkies, soup cans, and more.
The narratives are seemingly disconnected hodgepodge of themes. Dazzle combines Jewish tenements with the Victorian Era, dynamite (yes, the explosive), a typewriter, toilet paper and Levi's jeans. Dazzle describes one piece as "Betsy Ross's illegitimate queer child runs away from home." Somehow these seemingly disconnected themes all make perfect sense.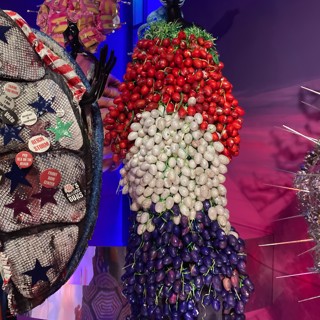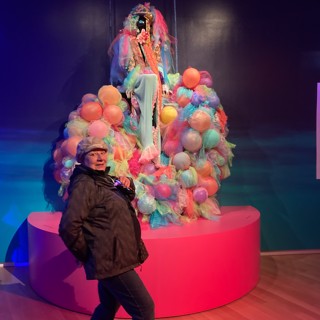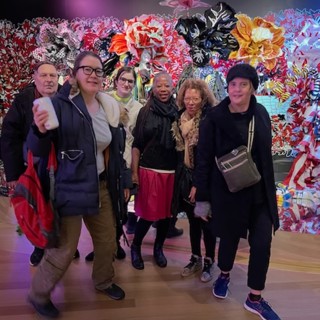 We descended to the third floor and the work became more subdued (compared to Dazzle, everyone seems subdued!)
Chris Schanck's Off World is a dreamlike study of functional objects. The strange, unfamiliar forms of Schanck's chairs, sofas, lighting fixtures, and mirrors suggest coral reefs, extraterrestrial worlds and artifacts from ancient civilizations.
Unsurprisingly, hallucinations are among the artist's inspirations. Otherworldly mirrors were framed in frozen fabric, twigs and what looked look melted wax in pink, the pink was repeated in a velvet armchair in a lush organic frame.
The curation was exquisite, spaced well and ideally lit. We were able to moved around objects and study the fine craftsmanship. Each piece is meticulously handcrafted in Schanck's Detroit-based studio. The artists was not in residence, but an informative video of him and his assistants gave us some insight into his workings.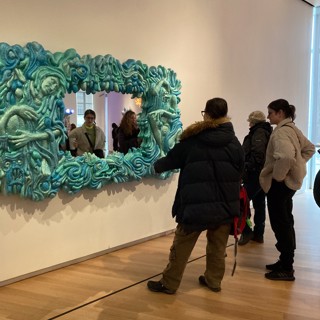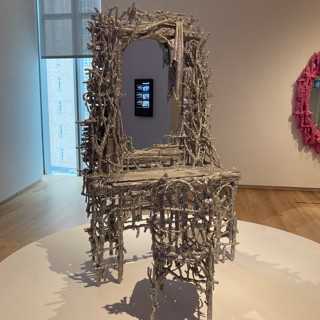 Down to the second floor, the scale became more intimate. MAD, an early advocate of jewelry as a form of artistic expression, reimagined its 1956 inaugural exhibition. This exhibit highlighted the museum's contributions to the field's advancements. Pieces, selected by an advisory committee to represent significant developments in art jewelry since the mid-century, featured pieces by jewelry artists for whom anything can serve as inspiration—from Art Smith, the first African American to open a jewelry studio in Greenwich Village to Mary Ann Scher's Electronic Oxygen Belt Pendant inspired by the 1969 moon landing. Material or found objects are present and integrated into social and political issues of our time. Concept takes center stage in these works.
Go to the museum. It will make your day! ●
Queer Maximalism x Machine Dazzle is on view through February 19, 2023. Chris Schnack: Off World is on view through January 8, 2023.
Museum of Arts and Design
Tuesday - Sunday
10 am–6 pm
2 Columbus Circle
New York, NY 10019
For tickets and info, please visit https://madmuseum.org
This post is part of our Monthly Museum series. On the third Saturday of each month, Fountain House Studio invites its members on an excursion to visit one of the hundreds of art museums across New York City. Read about past trips here.
Want to learn more about the Fountain House Studio? Visit Studio.