At Fountain House, our artists – like so many throughout history – are often on the front lines of social justice, creating work that examines and pushes the boundaries of activism.
On June 9, inspired by moments of overcoming adversity, and by Maya Angelou's poem, "Still I Rise," four Fountain House artists – Nancy Caton, Angela Rogers, Alyson Vega, and vermilion – presented installations at Fountain House's Auction and Benefit. Their original works included a short film, purposely blown out and overexposed, large-scale figures suspended from wires, and an imagined living space "spun to encase our changing selves."
At Fountain House Gallery and Studio, our artists make a vital contribution to the New York arts community and challenge the stigma surrounding mental illness. To support our artists, please visit https://www.fountainhousegallery.org/.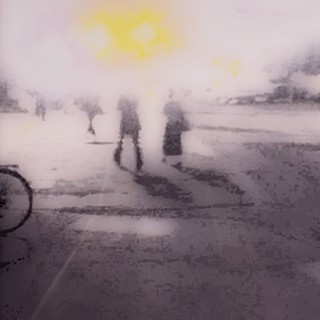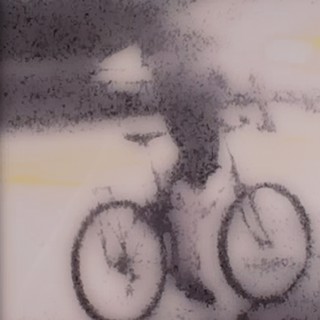 Nancy Caton
MAGIC OF LIGHTS:
Corner of Chrystie & Hester, NYC
2022
Original film with audio
A casual, late-night stop at the street corner suddenly took hold of my full attention. It was a moment of both wonder and appreciation for being immersed in the magic that is New York City. Compelled by this sudden inspiration, I took multiple photographs and a few short videos of the street scene from the same vantage point. When stopped, the movement of the city became palpable. It felt alive, and made me feel alive. It was a reminder of why I have lived here for so long.
I later edited the images, purposely "blowing out" and overexposing them. My intention was to blur the specific details, so that what emerged was pared down to the base feeling of the moment. Devoid of distinct features – a form of sensory deprivation – it necessarily fosters a heightening of the viewer's other senses and feelings.
The finished product embodies the show theme of "Rise." It is intended to provide inspiration for the future by documenting the continued motion and unique resilience that has emerged during these challenging times.
The movement throughout the work is key, as it evokes the buoyancy of humanity despite adversity. The work articulates the beauty to be discovered in the action of pausing.
To learn more about Nancy Caton, please visit: https://www.fountainhousegallery.org/artist/nancy-caton.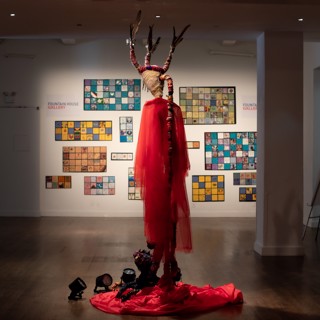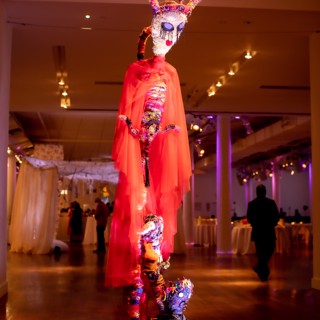 Angela Rogers
The Ascension
2021-2022
Recycled evening gowns, fabric, yarn, feathers, buttons, charms and wire
This installation is a testament to the human spirit and its ability to evolve. The three beings are presented in a large-scale form of my signature "Poppets," an Old English spelling of the word "Puppets."
Thelema (from the Greek verb thelo – to will, wish, want, or purpose) is the dominant figure and therefore the largest, towering majestically over the other two in her red cape. She represents Self-actualization, the Goddess, the Great Lady. She expresses the feminine
principle and displays female sex organs and a winding tail.
Next in size is Lazarus (the Trickster), holding the Magic Pipe on his way to taking a leap of faith. He is the perennial Teenager, the Fool.
The smallest figure, Baby Ash, is the Wise Little One. He is not yet fully actualized; he knows all yet knows nothing. A baby needing the assistance of Thelema and Lazarus for the fulfillment of his basic needs, he was born with magic and possesses the power to
grow in consciousness.
Thelema, Lazarus, and Baby Ash "Rise" from the darkness...
To learn more about Angela Rogers, please visit: https://www.fountainhousegallery.org/artist/angela-rogers.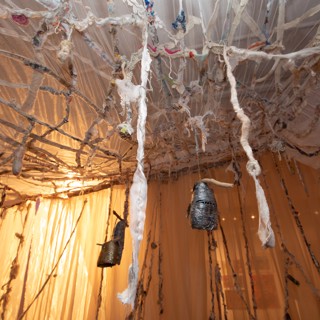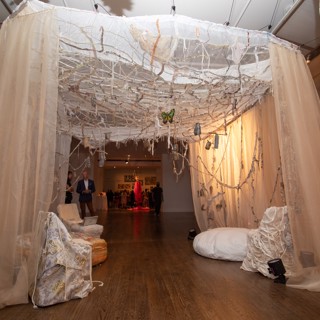 Alyson Vega
The Urban Cocoon: An imagined living space spun to encase our changing selves
2021-2022
Fabric, fiber, wool roving, plastic bags, metallic thread and other objects, machine- and hand-sewn, woven, glued, tied, stiffened, felted, stuffed, and suspended from wires.
The Urban Cocoon was inspired by all the time we spent in lockdown. Isolating in place and emerging as better versions of ourselves exemplifies the theme of "Rise." All the bad news – racial injustice, wars, and mass shootings – will not bring us down. We can still choose to rise and display the best versions of humanity.
All of the furnishings (chairs, table, computer, and lamp) are suspended in cocoon form. Caterpillars, individual chrysalises appear throughout the interior and butterflies abound on the exterior.
A large part of my art practice involves soothing myself through repetitive creating. Over the years I have made hundreds and hundreds of long strands of wool, from recycled sweaters and raw wool roving, washed and felted. I weave, sew, felt, or glue in bits of fabric, beads, yarn, and even objects.
I had no idea what these strands would become until I learned the theme of "Rise." Although technically most butterflies emerge from a chrysalis that they spin for themselves as caterpillars, the term "cocooning" has become synonymous with the self-isolation practice that we adopted to stay safe and protect others during the pandemic.
It became apparent that everyone had similar experiences during lockdown – a lot of sinking into
chairs and staring at screens. We also had a lot of stuff delivered to our doors. My two beanbag chairs are filled with repurposed packing material and plastic bags.
Spend some time inside the cocoon. Please feel free to sit in the chairs or sink into the beanbags. Be careful, though: you may need help to "Rise."
To learn more about Alyson Vega, please visit: https://www.fountainhousegallery.org/artist/alyson-vega.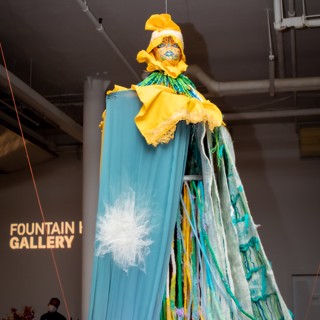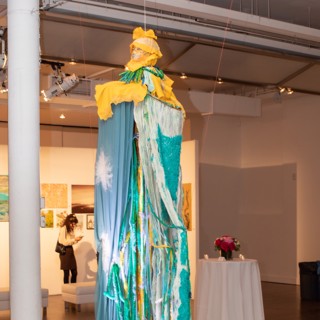 vermilion
Adaptation & Change
2021-2022
Wool, silk, glass, wood, and paper suspended from wires
While planning this installation, I knew that it would involve remembrance of the tribulations life has thrown my way, that there would be moments of taking stock, of assessing: Have I always "risen," rolled with the punches, dusted myself off and stood tall in triumph?
I also wanted to pay tender tribute to my maternal Roma/Gypsy ancestors, to let them know through my work that I am quietly standing on their shoulders, that no matter how lonesome a tumbleweed I am in America that I, too, have people.
But then war broke out in Ukraine. An entire nation stood up to fend for the rest of Eastern Europe. The beastly imbecile horror of communism invading, wanting a comeback, the greedy monstrous jaws opening...
I found the nuno felting of the textile layers both soothing – while soaking and massaging the silk and wool roving with soapy water and prayers for peace and brilliance – and embattling, while thumping and throwing them about so they fused, as I cursed Putin and heard echoes of Zelensky's mantra, "I need ammunition not a ride. I need ammunition not a ride. I need ammunition not a ride..."
Maya Angelou's poem, "Still I Rise," has resonated with me in light of Ukraine's war of resistance. The poem exemplifies the same stubbornness, the same courage, the same boldness – Angelou's on an individual level, Ukraine's on a national level. I feel that even my late father has reclaimed his voice through the Ukraine conflict. I am proud of his Eastern European heritage. Of manhood. War claims a nation's fathers, sons, brothers, and it is they who are on the front lines. While living under communism, my father became human wreckage, hard to hold in admiration. But Ukrainian men stand tall, halting the march of the Russian boots for all of us.
I expected this installation to be a work of introspection; it wound up as an expression of militantism. I thought that it would look sturdy; it instead appears ethereal.
If I may "artsplain" my installation: At the bottom you will see writing, a muddy swamp of my life's misery, sealed under a slab of glass, both cleansing water and shield. From it, roots sip their strength and blossom into colorful membranes, petals of sorts, culminating in a war-faced pistil.
To learn more about vermilion, please visit: https://www.fountainhousegallery.org/artist/ella-veres.