Alyson Vega is Mad About Art
1/6/2015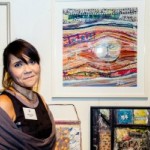 alyson vega is mad about art
Alyson Vega is a Fountain House member and Fountain Gallery artist whose magical works of fiber art have become increasingly popular with collectors. She was the member-speaker featured at Fountain Gallery's Mad About Art Annual Art Auction and Benefit last November, where she candidly and eloquently shared her life experience with the more than 400 assembled guests. Following is the text of Alyson's remarks.
Before I came to Fountain Gallery, I was a math teacher. After a 22-year career, I suffered a traumatic brain injury and lost my job. My life turned upside down in an instant. I had a brain tumor that led to a stroke and then brain surgery. The brain injury damaged my ability to communicate and interact with people. I couldn't read social cues and found myself misinterpreting what people said.
Talking to someone was like I was hitting a tennis ball over the net, but instead of getting the ball hit back to me, I would get an egg thrown at me, or the person would walk around the net and hand me the ball. I would think to myself, this isn't the way the game is supposed to be played. Then I'd demand that they play the game correctly, hitting the ball back over and over again. Eventually they'd give up and walk away, leaving me confused about why they were angry at me.
Alyson Vega with her work at Mad About Art
Communication was distorted with everyone—friends, family and strangers. To make matters worse, I also became less inhibited, often blurting out whatever popped into my head. I lost all my friends. I stopped trusting people and suffered a complete breakdown. After I got out of the hospital for the third time in one year, I became incredibly isolated because I didn't want to have altercations or misunderstandings with people. I basically stopped leaving my house.
Prior to the brain injury, I suffered from depression. I grew up in a chaotic home. We were poor. It was violent and abusive. I remember being seven years old and considering jumping from a sixth-floor window. School became a haven for me. There was order, quiet, predictability and, best of all, food. I did well enough to go to Harvard on full scholarship. It was there I experienced my first bout of crippling depression. But I was able to graduate and learned to manage my illness. Becoming a mother and a teacher, I thrived. I loved the fact that kids counted on me.
But the brain injury changed everything.
In addition to the inability to communicate, I had trouble with my memory. I lost my math skills and I couldn't read the way I used to. I became more reliant on my visual perception. I became compulsive about making things. I had endless ideas and felt compelled to carry them out. Stuff took on a different meaning; I saw potential in everything. I would just make things: shoeboxes with stuff in them, long coils of wool. It started to accumulate and seemed to serve no purpose.
I wasn't sure if it was art. I thought, am I an artist or am I just crazy? I now know those things are not mutually exclusive.
A friend told me about a symposium at the New School about art and mental illness. I wanted to understand what I was doing. An art therapist on the panel said, "One of my patients only feels sane when she is making art." I thought that is the exact opposite of how I feel. The more I create things with no purpose, the crazier I feel.
During the Q & A, I stood up and said that while I enjoyed the process of making something, seeing all the work accumulate in my apartment was a source of stress. Jason Bowman, who was at that time the Director of Fountain Gallery and was on the panel, responded, saying, "It's OK to let go of some of that stuff."
That night I went home and filled up seven large black garbage bags with junk and threw them away. It was liberating. At the symposium, Jason also said he wouldn't mind taking a look at some of my work. At first I was terrified by the idea. He invited me to a meeting at Fountain Gallery. There was a group of artists there and when I took out one of my pieces a guy said, "That is amazing!" It was the first time I had shown my work to a stranger. It felt like I had said something through my work that made sense. It was a validation that what I had been doing might have a purpose. I thought, OK, I'm coming back.
Jason explained that they usually don't let non-Fountain House members participate in shows. He said I should check out Fountain House, but that he didn't know if I would qualify. I was like, um, yes…mental illness, that's no problem. I loved Fountain House and after I was accepted, I started working in the Horticulture Unit at least once a week and going to Fountain Gallery regularly.
I never studied art and my brain injury damaged my ability to plan. I make art organically, working quickly and instinctively. I'm still never sure when something is good. I've shown my work at several Fountain Gallery shows and sold pieces in all but one. I was asked to make some pieces with material recycled through Eileen Fisher's Green Eileen Project. These have been on display at their store in Columbus Circle. I never could have dreamed something like this could happen to me. Last year's Mad About Art was the first time I ever showed my work. I sold both of my pieces. I was stunned. At tonight's event, I'm showing three.
I am so grateful for the new life I am building. The encouragement and validation I get from Jason and Ariel are priceless, and the artists, staff, and members are great. Before I came to Fountain House, I felt like I had no place in the world. I didn't know who I was anymore. I may have been creating stuff but Fountain Gallery made me an artist.
My daughter Sachi is here with me tonight. Of all the people in my life, she never once gave up on me. She has been a constant source of support and inspiration. She even walked me to my first Gallery meeting. At more than one of my darkest moments, I actually believed she would be better off without me and I tried to take my own life. Today, I want nothing more than to stay alive for her.
My sister Suzanne wrote something in one of her songs about resiliency. I'd like to read it to you:
Kids will grow like weeds on a fence
She says they look for the light, they try to make sense
They come up through the cracks
Like grass on the tracks.
Growing up the way I did, I was lucky enough to come up through the cracks. Fountain House and Fountain Gallery are like the light I needed to try to make sense. I do not identify myself by my illness or injury. Today, I am a mother and an artist. Thank you.