Artist Martin Ramirez Honored by US Postal Service
4/24/2015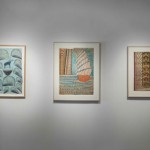 Artist Martin Ramirez Honored by US Postal Service
Our great friend, the noted outsider art expert and gallery owner, Frank Maresca and Fountain House Board member, Anne Mai, hosted a reception at the Ricco/Maresca Gallery on April 14th. The event featured 14 works by outsider artist, Martin Ramirez, exclusively for friends of Fountain House.
Ramirez has just been honored by the US Postal Service by having his paintings on five US postage forever stamps. The stamps were inspired by his work created between 1954 and 1963 including "Untitled (Horse and Rider with Trees)," "Untitled (Man Riding Donkey)," "Untitled (Trains on Inclined Tracks)," "Untitled (Deer)" and "Untitled (Tunnel with Cars and Buses).
Ramirez, who was diagnosed with schizophrenia, was an undocumented Mexican worker who spent much of his adult life in mental institutions in California. His unbridled resourcefulness enabled him to transform the most unlikely items -- crushed crayons, matchsticks and spit -- into art supplies and transcend his confinement to create what is now considered some of the most acclaimed outsider artwork in modern American history. Ramirez was featured in a retrospective in 2007 at the American Folk Art Museum. His life and his work have an intimate connection with Fountain House and Fountain House Gallery's mission to celebrate the creativity and expression of people living with serious mental illness.
You can read more about the stamp collection and exhibition here.