Now at Fountain House Gallery: "Navigating New York"
5/15/2015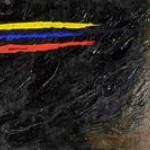 now at fountain house gallery: "navigating new york"
By: Camille Tibaldeo
Our new exhibition, "Navigating New York," opened at Fountain House Gallery with a gala reception on May 14, 2015. This group show features works by more than two dozen Fountain House Gallery artists who have employed diverse mediums to explore the ways in which they "navigate" their daily lives in New York City – physically, intellectually and emotionally.
"Navigating New York" is curated by Jason Rohlf, a Brooklyn-based contemporary artist who has shown his work across the U.S., and, among numerous noteworthy achievements, created an installation for the New York Metropolitan Transit Authority (MTA). Says Rohlf, "For an artist, managing life in New York City happens on various levels – from the literal to the emotional – taxing even the most resilient among us in myriad ways. From the subtle dance with fellow pedestrians to learning that your subway station stop is being bypassed, the obstacles encountered en route to even the simplest goals can prove daunting. Add to this the managing of a mental illness and the hurdles grow exponentially. Or do they? As I spend time with Fountain House Gallery member-artists, my sense is that we all have our bag of tricks to be invisibly deployed when needed."
Looking at the works created for this show by Fountain House Gallery artists immediately conjures the urban experience; from the rivet-like repetition of Julio Mendoza's circular collage forms to Ariella Kadosh's solitary subway map lines set against a void of negative space, the images convey the shared and insular zone we New Yorkers inhabit at the same moment. Barry Senft's "Subway," the exhibition's signature image, elicited this response from a viewer at the show's opening: "I have been on that very train ride." Maura Terese's "I'm Chasing Rainbows" gives us an insight into both the icon of a map pin and the variety of medications enabling this artist-traveler to reach her destination. Perhaps an inner quiet must be supported in order for one to last for any length of time in New York City; this stillness is reflected in Robin Taylor's "Tunnel" painting.
"Navigating New York" will remain on view at Fountain House Gallery through June 17, 2015. See the work online at the Fountain House Gallery website.