Fountain House Gallery Event Honors Ellen Philip and Cal Donly
6/16/2015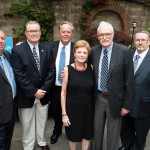 Fountain house gallery event honors ellen philip and cal donly
By: Camille Tibaldeo
Fountain House Gallery's End of Annual Meeting Season Celebration took place on Thursday, May 28, 2015. Well-wishers and art lovers gathered in the garden of the Horticulture Unit to see the dazzling array of more than 100 exhibited artworks for sale by Fountain House Gallery artists. The event honored two dear friends of Fountain House Gallery: Ellen Philip and Cal Donly.
Honorees Ellen Philip and Cal Donly founded this event more than 10 years ago with their great friend and Fountain House Board member Carl Hagberg. Since its inception, the event has raised nearly one million dollars to benefit Fountain House Gallery.
Attendees viewed the splendid exhibition and chatted with the artists about their work, as they sipped cocktails, sampled delicacies, and enjoyed live music. Over the years, a number of Gallery artists have formed relationships with attendees who have become collectors of their artwork, including some who have commissioned pieces for their collections.
​The event invitation and exhibition catalogue held an art image of two bunnies, amidst lush green grass and wildflowers. The event's signature image choice was not random: honorees Ellen and Cal have their own pet rabbit, Pepper. Fountain House Gallery artist George Penon created this painting specifically for Ellen and Cal, and the original work was presented to them at the event. A few days later, Ellen reported that the art piece now hangs in Pepper's room.
One member-artist, Mercedes Kelly, spoke of her initial hospitalization and diagnosis of mental illness during her college years. Mercedes noted, "I am forever grateful to Fountain House and Fountain House Gallery because I have not had to put those pink hospital slippers back on since becoming an active member over 10 years ago. Thanks to Fountain House Gallery, I have the opportunity to display and sell my artwork and to be a part of something extraordinary. My participation in the Gallery helps me to stay well." Mercedes commended Ellen and Cal, stating, "Their generosity to the Gallery has moved us all, and I am personally grateful to them for purchasing a piece I displayed in the early days of this event."
​Jonathon Glass, another member-artist, said, "Ellen and Cal have both given so much to Fountain House Gallery artists, and they believe that a dignified existence is key to our survival." Jonathan, who specializes in pen and ink drawings of musicians in live performance, sketched the keyboardist and guitarist as played in the garden as a memento for Ellen and Cal.
The evening was made possible thanks to the efforts of many. There were the hosts, Carl Hagberg, Maryellen Andersen, Anthony Battista, Patrick Burke, and Robert Carney, as well as many generous sponsors including Broadridge, an employer of Fountain House members. Additionally, Fountain House Gallery staff received strategic support from the FH External Affairs team. Fountain House and Fountain House Gallery volunteers, members, and staff are also to thank for the evening's success.
Congratulations to all of the exhibited artists of Fountain House Gallery at this year's celebration. Their talents provided the true centerpiece for the evening!