We're Mad About Fountain House Gallery Artists!
11/24/2015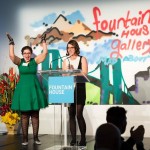 We're Mad About Fountain House Gallery Artists!
This year's Mad About Art Auction and Benefit was an unprecedented success raising over $283,000 to support Fountain House Gallery. Nearly 400 guests used their passport to inspiration to access a spectacular four-gallery exhibition of more than 100 pieces by Fountain House Gallery artists, curated by Phong Bui, Agnes Gund, Frank Maresca and Matthew Higgs. ​
During the brief program, Member-Artist Ariella Kadosh delivered compelling remarks recounting her journey from hospitalization to Fountain House and the gallery where she became a successful and legitimate artist. Ariella's work has sold out at virtually every recent exhibit where she has shown. ​

The evening featured a thrilling Paddle Raise in support of much needed studio space for our artists. The pledge drive raised an extraordinary $32,500, which will lay the foundation for the development of the studio project.
As Ariella explained, "a studio is not merely a space to paint in, I see it as another safe place to be. A place where my art can dry undisturbed, and my friends, colleagues and I can bounce ideas off of each other."
There was an outpouring of love and respect in the room for Honorees John Casaly and Louise Parent whose contributions to the arts and to improving the lives of people with serious mental illness were celebrated. John was a longtime member of Fountain House's Board and many of his fellow Board members were in attendance to recognize his many years of service. ​

The Esther Montanez Leadership Award was presented to Francis J. Greenburger. Through his work at OMI International Arts Center, Francis has created a community of creative exchange for artists from all over the world and from different socio-economic backgrounds. At The Greenburger Center for Social and Criminal Justice, he is leading an effort to reform the prison system. For his commitment to the arts and to making our society more humane toward people with mental illness, Francis was an ideal recipient of the Esther Montanez Award. ​
Thanks to everyone who supported this year's Mad About Art and made it an unprecedented success. There is still time to build on the momentum of the evening. Here's what you can do:
We look forward to seeing you at upcoming exhibits at Fountain House Gallery and at next year's Mad About Art! ​