Connecting Strangers, City to City
9/16/2016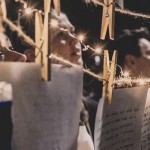 Connecting Strangers, City to City
In late August, The Strangers Project returned to Fountain House Gallery with a new exhibit, the fourth they have presented in our space. This 10-day pop-up show, featuring hundreds of individual anecdotes mounted on the Gallery's walls, engendered both excitement and curiosity. Founder Brandon Doman began The Strangers Project seven years ago while sitting outside a coffee shop, asking himself a question many people wonder about every day: What's your story? The collection of personal stories celebrates the connections made when strangers read these anonymous accounts.
The Strangers Project Team
After passionately working on this project over many years, Brandon is now moving forward with something new: sharing these true-to-life accounts with the nation. As of September, Brandon and his team are hitting the road. "This project has existed mostly here in New York City," said Brandon. "While I do get to meet people from everywhere, we are excited to take this to new communities around the country." They will not only be reaching a wider audience but will also be documenting the entire experience! On Tuesday, August 23, the Strangers hosted a fundraiser at Fountain House Gallery to raise funds for these endeavors.
A significant feature of the project has been that all of these stories are shared face to face and in person, but that is about to change. Brandon explained, "The film crew will be with us from day one. There is a lot of behind the scenes interaction that I don't normally get to share. The documentary will highlight this, and many of the people we meet along the way." Beginning in Manchester, New Hampshire, The Strangers Project will visit over 20 cities, including Boston, Chicago, Denver, and San Francisco. We look forward to hearing about the road trip and the new stories that unfold along the way. Good luck, Strangers!