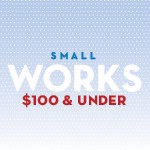 small works: $100 & under
By: Camille Tibaldeo
This annual exhibition and sale has become a Fountain House Gallery tradition. And for this year's show our artists outdid themselves, creating dozens of pieces sized at 5 by 7 inches or less. With each work bearing a price tag of $100 or under, it's no wonder that many were snapped up almost as soon as they were hung!
Installation Shot
Sales were brisk at the festive opening reception, as guests made their selections from a dazzling array of petite pieces in mediums ranging from watercolor and acrylic painting to mixed media and photography.
Jasmine Soto, Rose Waters
Our past "Small Works" shows have been a rousing success with holiday shoppers and collectors. In addition to affordability (and variety), these works present an added boon: portability. As a rule, purchasers of Fountain House Gallery artworks must wait until a show closes in order to take possession of their acquisitions, and await delivery of larger pieces. But during this holiday sale they can take their finds right "off the wall." Pop one or more small works in tote bag or briefcase – and you're ready to go. Case in point: A woman stopped in at the Gallery to view a past "Small Works" show on her way to the airport for a holiday visit with family – and departed with three small-works "gifts" nestled in her carry-on. (Imagine Uncle Nate's delight at receiving an original art piece – instead of yet another tie or sweater!)
Stephanie Freader, Autumnal Dreams
As we count down to the holidays, the artists of Fountain House Gallery continue to ensure that a small-works trove remains "in stock." Note to first-time collectors and veterans alike, and to holiday gift givers: This show, on view through December 22, offers something for everyone.