The Written Word
1/17/2018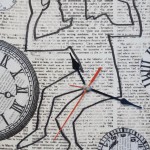 The written word
By: Camille Tibaldeo
On an unseasonably balmy January evening, a large and enthusiastic crowd joined us at the Fountain House Gallery opening reception for "The Written Word." Energy was high as guests feasted their eyes on the more than 50 original artworks in the exhibition, which spotlights art pieces inspired by classic and popular literary works.
Opening night at Fountain House Gallery
All artworks in the show, in mediums including acrylic, mixed media, linoleum block print, and digital photography, have been made on wood blocks of uniform size; as displayed on the walls of the Gallery, they look like book covers arrayed around the space. Each art piece is accompanied by brief text from the literary work that inspired it, making for a striking–and informative–presentation.
Installation shot
Among the works on display are: Linda Bienstock's Interview with the Vampire (author: Anne Rice); Lexis Glover's Animal Farm (George Orwell); Bryan Michael Greene's Frankenstein (Mary Wollstonecraft Shelley); Lewis Pujol's Islands in the Stream (Ernest Hemingway); Gail Shamchenko's Atlas Shrugged (Ayn Rand); and Greg Stanger's Titus Andronicus (William Shakespeare).
Linda Bienstock's Interview with the Vampire (Anne Rice)
A number of artists were on hand at the opening to discuss their work with guests, and to enlighten them on the backstories behind pieces created for the show. Many of us are familiar with the experience of being intrigued and stimulated by a particular literary work, and these exchanges were varied and lively: an intersection of fine art and literature.
Bryan Michael Greene's Frankenstein (Mary Wollstonecraft Shelley)
"The Written Word" is curated by Joyce Siegel, an artist and arts educator who works with not-for-profit arts organizations in New York City. Joyce's service to Fountain House Gallery ranges far beyond her contribution to this exhibition. She regularly offers her time to meet one-on-one with Gallery artists to discuss their work and how to market it. Joyce's awareness of the artists' backgrounds and processes provided invaluable depth and insight to her selection of pieces for the show.
Curator Joyce Siegel (at right) selecting works for the show
"The Written Word" will remain on view through March 1, 2017.