"Waking Dreams" Exhibition
1/17/2017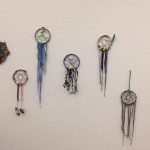 "Waking Dreams" Exhibition
By: School of Visual Arts
Since 2000, Fountain House Gallery has represented artists living with mental illness and helped cultivate their creative growth. This fall, those artists partnered with five MPS Art Therapy students – Michal Assif , Saeideh Golji, Robert Huguenard, Sarah Lovett, and Gabriella Simpson – to engage in a collaborative project. The event was arranged through the MPS Art Therapy Special Projects program, which allows students the chance to engage with diverse populations and broaden the experiences of both student and participant. For "Waking Dreams," the art therapy students and Fountain House Gallery artists collaborated over the course of three workshops to produce a series of work that will be displayed at SVA from January 13-30.
"It is incredibly validating for the participants to have their art displayed at the end of these workshops," says Val Sereno, supervisor of the Special Projects program. "It presents a great creative and therapeutic opportunity."
The artists at the Fountain House Gallery are also members of Fountain House, a center "dedicated to the recovery of men and women with mental illness by providing opportunities for members to live, work, and learn." MPS Art Therapy has been lucky to have collaborated with Fountain House Gallery in the past, and would be delighted to continue cultivating their relationship in the future. The exhibit is on display in the 5th floor gallery space and can be seen through January 30 by appointment.