Mad About Art
11/30/2017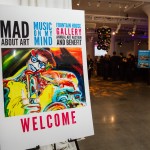 mad about art
By: Gavin Dubblex Alleyne
The artists gathered at the gallery decked out in their best attire; slacks and skirts replaced jeans and pants. Some of the women put on makeup and a few of the gentlemen donned suits and ties. The artists looked splendid all dressed up. The air was full of hopeful excitement for what events were to come. The artists filled up on delicious sandwiches and pasta. Karen Gormandy provided name badges and business cards to hand out. The gallery was full of artists. After about an hour of eating and anticipation the artists gathered to walk over to the benefit at Metropolitan West, located at 46th Street and 11th Avenue.
Leslie Barbaro Photography
Upon arrival at Metropolitan West, we saw people at a long table with laptops checking in esteemed guests. The artists strolled in around 6 p.m. The venue was spacious and filled with numerous quaint tables along with fantastic art. The room quickly filled up; more than 400 guests attended.
The artists felt proud to be a part of Fountain House Gallery and to be included in this year's "Mad About Art" showcase. There were long tables with many items available to bid on: a trip to Vegas, golfing, jewelry, gift baskets, and more.
There were people dressed in black with sparkly hats carrying iPads to accept bids for the electronic art auction; guests could also bid from their phones. As the crowd came in and mingled, many of the guests started to gravitate towards the artwork. The artwork was broken up into two sections. On one wall of the room were the Guest Curators' selections and the remainder of the work was displayed throughout the venue. The Guest Curators included renowned artists and curators: Cindy Sherman, KAWS, Patricia Croni and Rachel Lee Hovnanian to name just a few.
Leslie Barbaro Photography
The artists were instructed to stand close to their work. Some of the artists drew individuals into conversation and explained their creative process. A number of artists watched to see who was paying attention to their work and then engaged them in their technique and the meaning behind the work.
As the event was taking place, all of a sudden loud drumming could be heard. A New Orleans-style marching band had entered with cheerleaders with pompoms in tow. There were two drummers and brass instruments. They did their walk from the entrance of the space and made their way through the crowd until they reached the stage. Once onstage, they performed a second number. The attendees loved it and gave the band a raucous ovation.
Leslie Barbaro Photography
The event was well-catered. The aroma of fine food drifted in the air. There were waiters floating around with an assortment of hors d'oeuvres balanced on round black trays. They carried bite-sized meats embedded in crispy toasted breads along with other scrumptious delights. There were tables with large spreads located in various places around the room. A wide range of foods to tickle the taste buds was available, from salads to meats and even an Asian cuisine table. Two open bars were in full swing.
Shortly after the marching band was finished, Fountain House Gallery Director Ariel Willmott took the stage. She gracefully thanked a number of well-known and consistent donors over the years. She praised the artists of Fountain House Gallery: "My goal is to make art a vocation for these artists." Her words made the artists feel proud to be a part of this great organization.
Leslie Barbaro Photography
Next to ease onto the stage was Fountain House Gallery artist Boo Lynn Walsh. She spoke of her love for the community and her gratefulness to have the studio space in Long Island City. She said that she had been a Resident Artist of the studio for a six-month stint. She added that the studio space heightened her creative energies and helped her to produce strong works of art. Boo Lynn was thankful to have her own space to work in and stressed the need to expand the studio space and to continue the funding for it.
Awards were handed out to esteemed organizations and individuals that have been regular supporters of Fountain House, some for as long as 25 years. The Esther Montanez Leadership Award was presented to Matthew Higgs, Director/Chief Curator of White Columns, and Robert Schifellite, President, Investor Communication Solutions, Broadridge Financial Solutions. The Emerging Employer Award was given to Droga5, a strategic advertising agency based in New York.
Leslie Barbaro Photography
The Studio Pledge Drive was truly one of the most thrilling parts of the night. C. Hugh Hildesley of Sotheby's auction house took the stage. He quickly quieted the crowd and got everybody's' attention. Then something really awe-inspiring took place as members of the audience donated thousands of dollars for Fountain House Studio. Hand after hand went up for donations ranging from $100 dollars to $5,000 a pop with a $10,000 matching fund to boot. After the pledge drive was finished the two large screens located on either side of the stage showed the staggering number of over $50,000, which was raised in minutes. People would raise their hands and those designated to register donations on iPads would weave their way through the crowd to record the donation. The crowd was abuzz with the amount of money that was being raised. Mr. Hildesley did an unbelievable job. It was clear to see that he was very accomplished at conducting these sorts of occasions.
When the stage presentations had come to a close, the bidding numbers for the electronic art auction were displayed on the two large screens. The bidding had been going on all night and wrapped up at 9:00 PM. The artists were aflutter as they observed the screens and saw the bids being placed on their artwork. Over 200 items were up for bids, including the non-art items on the tables near the front. The bids would scroll down the screens. It was marvelous to see the dollar figures going up for my fellow artists. I was ecstatic for them. Jenny Chan came up to me and excitedly said, "There are bids on my work!"
Leslie Barbaro Photography
There were numerous marvelous pieces of work that were made with painstaking effort, a lot of thought and contemplation. A number of artists totaled sales over $1,000. Some of the works that stood out were Jayce Kim's "Asian Woman Playing Music II" which was a delicate composition of a woman playing a Dan Nhi, which is a Chinese instrument. Maura Hall captured the likeness of the cult rock group The Ramones. Skye De La Rosa Topala's "Rise Up" had vibrant colors and curved patterns. Work by Jorge Pablo Hernandez was a sensitive and creative interpretation of angels and New York City. Jonathan Glass captured free-form jazz musicians that looked to
be in the midst of a stream of consciousness riff. Osvaldo Cruz's "Disco II" caught the lights and colors and feeling of a discotheque. Bryan Michael Greene's "Rain, Color Stormy and Pinch of Salt" showed his creative use of shapes and color separation.
Leslie Barbaro Photography
All in all: Wow! What an unbelievable and magical night with nearly $400,000 raised. It surely was a night to remember. I look forward to next year's event and taking it to another high.