Fountain House Studio Inaugural Show
1/23/2018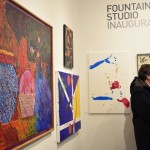 Fountain House Studio Inaugural Show
By: Camille Tibaldeo
Our January 11th gathering at Fountain House Gallery's Manhattan home base was more than an Opening Reception: It was a celebration of the first year of operation of Fountain House Studio – complete with a birthday cake! Fountain House Studio Inaugural Show is the Gallery's first exhibit of 2018. The show spotlights 59 works made by 14 artists designated as Resident Artists during the inaugural year of Fountain House Studio, established in January 2017 in Long Island City's landmark Silks Building.
Opening Reception
The realization of Fountain House Studio provides member-artists with the resources, training, inspiration, and support they need to succeed in the highly competitive art world and enables them to move to a new level of creativity in their work. At the Studio, where free art supplies are available, artists can expand their marketable portfolios and advance their efforts to achieve broader name recognition and commercial success. Free of the constraints of making art in their living spaces, artists ranging in experience from highly trained to self-taught can work on a larger scale and explore fresh directions in a collaborative, supportive setting.
Artist Julie Orton at the studio
Via an application process, the Studio offers individual workspaces to Resident Artists on a rotating basis, and the space is available to all Gallery artists and to the larger Fountain House community during designated hours. In addition to the 14 Resident Artists exhibiting in Fountain House Studio Inaugural Show, dozens more Gallery artists and other Fountain House members have made art at the Studio during its first year, and our community continues to grow. The establishment of Fountain House Studio was made possible primarily through the generous support of individual donors.
Untitled 1 by Martin Cohen
The first-year Resident Artists exhibiting in Fountain House Studio Inaugural Show are: L.B. Berman, Martin Cohen, Bernadette Corcoran, Stephanie Freader, Ashwood Kavanna, A. Lutz, Anthony Newton, Julie Orton, Angela Rogers, Barry Senft, Susan Spangenberg, Robin Taylor, Alyson Vega, and Boo Lynn Walsh.
Happy 1st birthday Fountain House Studio!
The exhibit will remain on view through February 21, 2018.