Outsider Art Fair
1/30/2018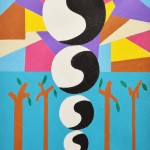 outsider art fair
By: Camille Tibaldeo
Fountain House Gallery once again had a strong and striking presence at the Outsider Art Fair, held this year on January 18-21 at the Metropolitan Pavilion on West 18th Street. An important annual event on the New York art scene, the Fair hosts influential exhibitors from around the world. It's a feather in our cap to present Gallery artists' work on this international stage, as we have for many years.
Booth #16
Works by five Gallery artists were on view in our booth. The selected artists were: Jorge Pablo Hernández, Mercedes Kelly, Angela Rogers, Barry Senft, and Alyson Vega. Among these, Jorge and Barry exhibited in the Fountain House Gallery booth for the first time. Mercedes is an Outsider veteran, and Angela and Alyson have been tapped to present their work at the Fair in prior years.
Alyson Vega installation
About the artists and their artworks: Mercedes Kelly's whimsical representations of animal subjects including dogs, cats, and birds have become a Fair favorite over many seasons. Both Angela Rogers and Alyson Vega make pieces utilizing fiber materials, transporting these from the familiar and commonplace to the magical and spiritual. Alyson's work often features landscapes and an earthy palette. Angela's "poppets" are assemblages wrapped in multiple strands of yarn, imparting to these sculptural objects an aura of mystery.
Angela Rogers holds her Poppet Pussy Protection
Jorge Pablo Hernández and Barry Senft each find inspiration in the architecture of New York City. Barry's brightly colored geometric works frequently focus on cityscapes. For the past decade he has made three paintings per week, all in the same size. Jorge creates repetitive pen and ink line drawings daily on whatever paper he can find, and uses a MetroCard as a straight edge.
Friendship in New York by Jorge Pablo Hernández
Our booth was bustling from day one of the Fair's long weekend. It was gratifying to tally up significant sales as first-time buyers joined repeat customers in snapping up our artists' work. Gallery artists and staff alike enjoyed greeting old friends and supporters and meeting new ones, and taking in the intriguing offerings presented by our fellow exhibitors. Participating in the Outsider Art Fair was, as always, a high point among the yearly activities of Fountain House Gallery.
Crowded Fountain House Gallery booth