Fountain House Gallery Exhibit at Laurie M. Tisch Gallery/JCC
3/14/2018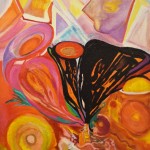 Fountain House Gallery Exhibit at Laurie M. Tisch Gallery/JCC
By: Camille Tibaldeo
The Laurie M. Tisch Gallery presents Redefining: 10 Fountain House Gallery Artists Living and Working with Mental Illness, on view from March 8 through March 28, 2018. The exhibit is part of the 10th Annual ReelAbilities Film Festival, which is dedicated to promoting awareness and appreciation of the lives, stories, and artistic expressions of people with different abilities. The Laurie M. Tisch Gallery is located at the Marlene Meyerson Jewish Community Center (JCC), on Amsterdam Avenue at 76th Street in Manhattan.
Opening reception
The ground-floor Laurie M. Tisch Gallery, visible from the street through sweeping windows, provides a striking showcase for works by these 10 featured artists: Susan Baus, Martin Cohen, Osvaldo Cruz, Bryan Michael Greene, Mercedes Kelly, Keith Pavia, Angela Rogers, Barry Senft, Gail Shamchenko, and Alyson Vega. A number of the artists were on hand to discuss their work with guests at a reception at JCC on March 12.
Artist Susan Baus with her artwork
"Outside" exhibitions such as this afford a wonderful opportunity for the work of our artists to be seen and appreciated by a wider audience. JCC offers numerous community activities and events, and all who pass through its doors through March 28 will be greeted by this impressive array of Fountain House Gallery artworks. JCC hosted a "Family Art Day" on Sunday, March 11, where FH Gallery Director Ariel Willmott was in attendance as art lovers of all ages viewed Redefining and children aged one to seven engaged in hands-on exploration and activities inspired by the exhibit.
Cat Medley by Mercedes Kelly
Selected Gallery artists showed work at the Laurie M. Tisch Gallery more than a decade ago, and we're delighted to return with an exhibit spotlighting a greater number of artists and their dynamic creations.