Shutter Speed
4/26/2018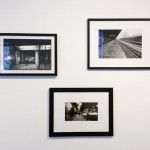 shutter speed
By: Camille Tibaldeo
Fountain House Gallery was the scene of the April 19th opening of Shutter Speed, a group show featuring black-and-white photographs inspired by Robert Frank's The Americans. The reception drew an appreciative crowd of art-world luminaries, Gallery supporters, Fountain House friends, and a number of first-time guests.
In attendance was the show's distinguished curator, Becca Hoffman. Becca is Director of the Outsider Fair, the renowned international art event at which Fountain House Gallery artists have been privileged to present their work over many years. It has been a pleasure to have Becca on hand to lend her keen eye and expertise to the mounting of this show.
Gallery Director Ariel Willmott with curator Becca Hoffman
Becca, herself a trained photographer, said, "Achieving a delicate balance between intimacy and voyeurism, the black-and-white street photograph has always held a special place in my heart. Long inspired by Robert Frank's The Americans, I walk down the street and see in my mind's eye snapshot after snapshot: moments captured by my memory and windows into the lives of others—ordinary people going about the ordinary matters of everyday existence, the moments that make up our rich and full lives. When I was asked to curate a show for Fountain House Gallery, I was honored by the opportunity and immediately knew that I wanted to explore this notion of a return to a simpler time when pictures were memories, souvenirs, instants captured forever on film."
Main Post Office, New York by Leora Miller
Robert Frank, whose work inspired Becca to organize this show, is a Swiss-American photographer and documentary filmmaker. His most notable work, The Americans, was published in 1958. Critic Sean O'Hagan, writing in The Guardian in 2014, said The Americans "changed the nature of photography, what it could say and how it could say it . . . it remains perhaps the most influential photography book of the 20th century."
Coney Island Summer Scene by Glenn Goldstein
The 15 artists whose work is spotlighted in Shutter Speed have embraced the challenge of slowing down yet speeding up—capturing that instantaneous pause in the noise of daily life. The purposeful absence of color throughout the exhibition grants the viewer the opportunity to step back in time, to an era when life was not impacted by a hyperconnected and digitally driven world. Shutter Speed becomes a tale of intimate vignettes; the works in the show are windows on the past, present, and future of our contemporary society.
The Shutter Speed artists are: Gavin Dubblex Alleyne, Skye De La Rosa Topala, Jonathan Glass, Glenn Goldstein, Maybellene González, Ariella Kadosh, Leora Miller, Saverio Penza, Angela Rogers, Gytis Simaitis, Susan Spangenberg, Greg Stanger, Bradford Scott Stringfield, Alyson Vega, and Boo Lynn Walsh.
Shutter Speed will remain on view through May 30, 2018.