Mental Health Month: Fountain House Gallery Special Events
6/6/2018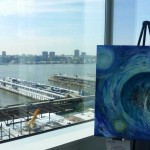 Mental Health Month: Fountain House Gallery Special Events
By: Camille Tibaldeo
Fountain House Gallery celebrated Mental Health Awareness Month (May) with a variety of activities – at the Gallery's home base on Ninth Avenue and in the wider community. The "Shutter Speed" exhibition of black-and-white photographs ran throughout the month at the Gallery and was a rousing success, complemented by additional events featuring works by Gallery artists.
Jadite Galleries, located on 50th Street just west of Ninth Avenue, hosted an exhibition of art by Marina Marchand, Anthony Newton, and Barry Senft, with the three featured artists in attendance at the festive opening reception on May 17th. Roland Sainz and Kathy Petrova of Jadite have been extraordinarily supportive of Fountain House Gallery over the years and have exhibited works by our artists in a number of shows. They also provide custom art framing services and are the "official" framers for our exhibitions and special events.
As part of the LIC OPEN ARTS festival, an Open Studio event was held at Fountain House Studio in Long Island City on May 19th. On this rainy Saturday, supporters and friends traveled by van to the Studio, where works by Studio Resident Artists Christine Albane, Laurie Berenhaus, Ariella Kadosh, Aracelis Rivera, and Ella Veres were on display. Also showing at the Studio was Miguel Colón, a Fountain House member who has been working extensively in the space during the Open Studio hours available to all in the Fountain House community. Rounding out the varied and striking mix of works exhibited at the Studio were pieces by Studio Coordinator Karen Gormandy and Studio Assistant Betty Eastland. Many exhibiting artists were on hand and eager to discuss their work process with visitors.
Studio visit
Gallery artist Guiomar Giraldo-Baron, who holds a BA in Fashion Design from FIT, showed her custom fashion creations at Fountain House Gallery on the evening of May 22nd. Attendees feasted on empanadas and wine as they applauded Guiomar's impressive designs. On this night, elegant "live" models, wearing exquisitely-crafted gowns of Guiomar's making, mingled with guests, and a Gallery supporter ordered a gown that will be custom-made for her.
Guiomar Giraldo-Baron with her models
Fountain House Gallery wound up the month with a one-night pop-up exhibit at the Ink48 Hotel on Eleventh Avenue, on May 30th. Works by 14 artists were beautifully arrayed in the terraced Penthouse Suite, which offered sweeping panoramic views of the city. Ink48 invited its guests to attend the exhibit, and a number of them came to admire the art and chat with artists about their work. The Ink48 artists were: Catherine Borisov, Elizabeth Borisov, Martin Cohen, Bernadette Corcoran, Osvaldo Cruz, Jonathan Glass, Jorge Pablo Hernández, Mercedes Kelly, Jayce Kim, Keith Pavia, Angela Rogers, Barry Senft, Gail Shamchenko, and Boo Lynn Walsh.
Artist Osvaldo Cruz and his piece Moda 2
With Mental Health Awareness Month in the rearview mirror, Fountain House Gallery has moved on to its current group exhibition, "Oasis: Exploring Central Park," which will remain on view through August 8th.