The Swedish Invasion at Fountain House Studio
10/5/2018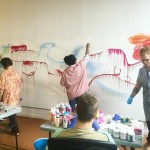 the swedish invasion at fountain house studio



By: Richard Courage
The Swedish colleagues came; they saw; they conquered our hearts with their enthusiasm, gentile manner and brilliant artwork!
The following are some of their thoughts and feelings:
QUESTION #1: When did you first start making art, and what is your favorite medium to work in (watercolors, acrylics)?
C.J.: When I was three, my parents used to go to bars or restaurants and I got to draw on the napkins. When I was nine or ten years old my dad hired an artist to paint my portrait and I had to pose for three days! He asked what I was thinking to get to know me. I said, "I wish you were sitting in my seat posing so I could paint you." "Deal." he said. He let me paint using his oils and I fell in love with oils!
AXEL: I have always been making art but I have been more serious about it for the last four years.
ALEXANDER: Everything I make is a work of art! Kidding aside, I started when I was 2-3 years old. I like to make sculptures in metal and paint cars with an airbrush.
QUESTION #2: What/who inspires you to create your artwork?
C.J.: Many friends and people around me are an inspiration. Art books and museums. Michael Bernbaum from California (a printmaker/ artist) was my greatest mentor. Sven-Arne Hokenstrom is an artist/friend/mentor of mine.
AXEL: Old TV shows like Pokémon, Digimon, Dragonball Z and so forth.
ALEXANDER: My imagination and the Swedish gods provide me with inspiration. Thor, Odin. Powerful protectors not meddlers.
QUESTION #3: What do you enjoy creating most?
C.J.: Depends on my mood. Predominantly work from the natural world.
AXEL: Landscapes, portraits, and fantasy creatures.
ALEXANDER: Exploding arrays of color and patterns. Creatures and phenomena.
QUESTION #4: What are your impressions of FH?
C.J.: Amazing House! Such a great place with an array of Units to choose from. So much is offered throughout the house to assist members in finding a healthier/functional path.
AXEL: I love the sense of community and friendships.
ALEXANDER: Daunting amount of things to take in. We were welcomed into the groove so fast. I liked pressing flowers. We don't do that in the Swedish clubhouse.
QUESTION #5: How was your time at the Gallery Studio in Queens?
C.J.: I was so happy it's a space that felt home to my heart. Karen Gormandy was inspiring, and getting to know my colleagues better through painting on the wall mural project was so rewarding. I'm so thankful and feel so blessed.
AXEL: It was nice but I wish we had more time there.
ALEXANDER: I had a great time there! So many possibilities. A very free atmosphere!
QUESTION #6: What do you take back to Sweden with you?
C.J.: Ideas, memories... maybe a t-shirt. LOL. Ideas about a consistent Art Group with inspiring ideas for working together with an option to go solo. Very inspiring and beautiful memories. Thank you FH New York!
AXEL: How important artwork is for member growth and personal development, and a ton of good memories.
ALEXANDER: Memories of new friends and experiences. New found energy and ideas. Learned new things about myself. When I was sick, I was taken aback by how everyone was so nice to me. Good memories.
And so the colleagues flew off back to Sweden and left us with new ideas and fond memories.