Knotted, Pieced & Wound
1/23/2019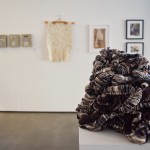 Knotted, Pieced & Wound
By: Camille Tibaldeo
The exhibition Knotted, Pieced & Wound, which opened with a Reception on January 11, is a "first" on two counts: It is Fountain House Gallery's first show of 2019, and the first in the Gallery's history to be devoted exclusively to works that draw from the materials, tools, and/or techniques of fiber art. As the opening-night crowd sampled savory and sweet tidbits whipped up by the Wellness Unit, they enthusiastically viewed the diverse and striking array of pieces arranged on walls, shelves, and pedestals, along with additional works suspended from the ceiling and in the display windows of the Gallery.
Opening Reception
Knotted, Pieced & Wound is curated by Sarah Margolis-Pineo, Curator, Hancock Shaker Village Museum (Pittsfield, MA). Said Margolis-Pineo, "The Fountain House Gallery artists really embraced the spirit of this exhibition, producing an astonishing array of works that challenge and expand what we think of as fiber art. Works like Lily Ng's gown made from MetroCards, Straphanger's Ball,use traditional techniques such as weaving, embroidery, and patchwork, to transform non-traditional found or modified materials. Other artists like Alyson Vega allow fiber to guide form, inventing a distinctive language for their sculptural practice that merges imagination and intuition."
Straphanger's Ball by Lily Ng
This contemporary multimedia exhibition comprises works drawn from traditional fiber practices as well as innovative new methods of working with familiar materials. Exploring themes ranging from the political to the deeply personal, the artists blend tradition and innovation to create works highlighting a diverse range of materials and processes—some familiar, others unexpected. Questioning the distinctions between art and craft, gallery and home, object and tactile experience, Knotted, Pieced & Wound presents a unique view into the constantly evolving medium of fiber.
Artwork by Alyson Vega
The Knotted, Pieced & Wound artists are: Laurie Berenhaus, L.B. Berman, Linda Bienstock, Lucinda Fernández, Ann Fischman, Stephanie Freader, Guiomar Giraldo-Baron, Ariella Kadosh, Jayce Kim, Lily Ng, Aracelis Rivera, Angela Rogers, Gytis Simaitis, Susan Spangenberg, Alyson Vega, Ella Veres, Laura Anne Walker, and Boo Lynn Walsh.
The exhibition will remain on view through February 20, 2019.