Our People
3/8/2019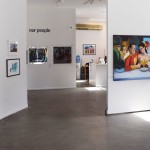 Our People
By: Camille Tibaldeo
What is the meaning of "community" in a time of deep division? Fountain House Gallery artists were asked to reflect upon this question in preparing pieces for the exhibition Our People. The resulting works, which reflect a spectrum from optimism and hope to disunity and chaos, premiered at a Reception at the Gallery on March 7, 2019.
Curator Ruth Adams
The show's curator, Ruth Adams, along with a packed house of artists and guests, was on hand at the reception. Ruth is Executive Director of Art Omi, a not-for-profit arts center located in Ghent, NY. Commenting on individual works in Our People, Ruth said, "Included are representations of specific communities such as the women's march in 'Girls Stronger Together' by Alyson Vega and an underground metal music community in 'NYC Music Scene II' by Ariella Kadosh, alongside others that appear wholly personal. Some pieces strike me as universal. I like the idea of community as personal and intimate as well as a big picture of the time."
Alyson Vega and her two pieces Cycle of Life and Girls Stronger Together
Ruth further noted, "Issa Ibrahim's 'Super Supper' derives from an image that is ingrained in our psyche from art history and Christianity. In this piece, superheroes are caught and entangled with each other in a drama, and their humanity and struggle bring us into the context of these fantasy/religious archetypes. Building community is an act of transformation as we gather individuals to create a whole, as seen in the sea of faces or buildings in 'New York City Democracy' by Mercedes Kelly or in 'People in Buildings' by Roger Jones. Even in the more abstracted images we experience emotional states that are common shared reactions to the times. We're seeing ourselves and each other."
Artist Issa Ibrahim in front of his mural Super Supper
The Our People artists are:Gavin Dubblex Alleyne, Susan Baus, Jenny Chan, Miguel Colón, Skye De La Rosa, Ann Fischman, Jonathan Glass, Glenn Goldstein, Maybellene Gonzalez, Bryan Michael Greene, Michelle Hammer, Issa Ibrahim, Roger Jones, Ariella Kadosh, Louise Kavadlo, Mercedes Kelly, Jayce Kim, Raymond Lopez, Vilan Natanzon , Aracelis Rivera, Alaphia Robinson, Gytis Simaitis, Susan Spangenberg, Alyson Vega, Ella Veres, and Boo Lynn Walsh.
My Neighborhood by Aracelis Rivera
This thoughtful and throught-provoking show will remain on view at Fountain House Gallery through April 17, 2019.