At the Table
5/14/2019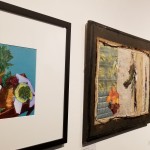 At the table
By: Camille Tibaldeo
Fountain House Gallery's current group show, At the Table, explores a theme that is central to our lives: food. The artworks on display examine various elements related to food, from its physical presence and beauty to dining with friends or family – or in solitude. When individuals come together "at the table," there can be a sense of joy and community, or of stress and alienation. The works spotlighted in the show speak to the diversity of these experiences.
The May 1st opening reception for At the Table attracted a packed house to the Gallery, where guests were greeted at the door by a lush and lovely floral arrangement created by Home & Garden Unit wizard Elias Lugo. In keeping with the exhibition theme, catered edibles and drinks aplenty were enjoyed by all as they viewed the artwork. The show's co-curators, Monty Blanchard and Leslie Tcheyan, were on hand for the festivities and said, "Fountain House sets a welcoming table for all. The artists of the Gallery reflect the diverse fantasies and flavors of the wider Fountain House community, and bring their unique tastes and visions to a table that always has room for one more." Leslie and Monty previously curated a Fountain House Gallery show in 2016.
Monty Blanchard and Leslie Tcheyan
Monty, who currently serves as President of the Board of Trustees of the American Folk Art Museum, is a former investment banker and an active collector of folk and outsider art, vernacular photography, and ethnographic and indigenous arts from around the world. Leslie has worked in the world of jewelry for the past three decades. Most recently, she founded Of Rare Origin with her two daughters. Their debut collection, featuring whimsical Avian designs plus other exclusive inspirations, continues to capture the attention of retailers and editors worldwide. Leslie and Monty share a passion for learning and for discovering new artists and their creations.
At the Table features pieces in mediums including acrylic and watercolor, pen and ink, ceramic, fabric, mixed media, digital photography, and more. The exhibiting artists are: Susan Baus, Elizabeth Borisov, Jenny Chan, Martin Cohen, Donna Faiella, Lita Goldberg, Glenn Goldstein, Bryan Michael Greene, Issa Ibrahim, Ariella Kadosh, Lousie Kavadlo, Mercedes Kelly, Jayce Kim, Vilan Natanzon, Loraine Nicholetti, Saverio Penza, Aracelis Rivera, Alaphia Robinson, Angela Rogers, Barry Senft, Gytis Simaitis, Jasmine Soto, Susan Spangenberg, Bradford Scott Stringfield, Robin Taylor, Alyson Vega, Ella Veres, Laura Anne Walker, Boo Lynn Walsh, and Valerie Wax.
The exhibition will remain on view through June 12th.