Small Works: $100 & Under
11/7/2019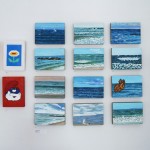 Small Works: $100 & Under
By: Camille Tibaldeo
Small Works: $100 & Under opened at Fountain House Gallery on October 31. Over the years, this annual exhibition has been a great artistic and financial success. For this year's incarnation of the show, Gallery artists outdid themselves: They created a record-setting 500 original small-scale works!
Portable art pieces – at affordable prices – are a winner, and the opportunity to choose from such a vast selection of original works is a bonus for holiday shoppers and art lovers. Each piece measures 6 by 6 inches or less and is priced at $100 or under.
Since the show's Opening Reception took place on Halloween night, artists and guests were encouraged to arrive at the Gallery in costume. Spotted in the jam-packed crowd were assorted witches and goblins, Cruella de Vil (who purchased a piece), and a devil sporting flame-red horns.
Gallery Director Ariel Willmott (turned out for the opening as Princess Leia of "Star Wars" fame) said, "Each year I am surprised by the fantastic variety in the artwork created for the Small Works exhibition. The artists continue to embrace the scaled-down format, unleashing their talents on fresh mediums and ideas. The exhibit showcases mini-collections of artworks, giving viewers a unique opportunity to experience individual artists' breadth of work. And we love offering the pieces at a price point that everyone, from tourists and students to artists and collectors, can afford."
Sales on opening night were brisk and are sure to climb as the holiday gift-giving season draws near. Among the mediums represented are collage, mixed media, acrylic and watercolor painting, digital art, and photography.
If you have not yet viewed the 2019 Small Works show, stop by Fountain House Gallery and feast your eyes on this crowd-pleasing extravaganza of artistic expression. The exhibition will remain on view through December 20.