Mad About Art
12/10/2019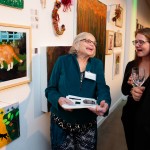 mad about art
By: Camille Tibaldeo
On Thursday, November 21, 2019, nearly 400 attendees convened for Mad About Art, Fountain House Gallery's 18th annual benefit event. This evening of art auction, delectable edibles, and cocktails was held at Metropolitan West on West 46th Street, where 100 original pieces by Gallery artists were exhibited to striking effect on the venue's pristine walls. The event was a tremendous success, artistically and financially: Thanks to our dedicated supporters, the fundraising goal was surpassed – and then some!
Works by 79 Gallery artists (a record-breaking number for this event) were presented in the auction exhibition, curated by noted contemporary artist Jason Rohlf. Among the art mediums represented were acrylic and watercolor painting, collage and mixed media, sculpture, woodcut, jewelry, and digital photography. Guests chatted with artists during the "Meet the Artists Hour" and placed bids on their smartphones or with the assistance of a squad of "bidding valets" sporting sparkly hats.
Artists Guiomar Giraldo-Baron, Sasha P.W., and Ariella Kadosh
In addition to the 100 works offered for auction, site-specific art installations were made by five Fountain House Gallery artists: Issa Ibrahim, Angela Rogers, Alyson Vega, Ella Veres, and Boo Lynn Walsh. The artists were prompted to explore their creative visions of a forest, and each developed these ideas into an immersive, engaging, large-scale artwork made expressly for Mad About Art. The atmosphere and décor at the event reflected the "forest" theme – not the enchanted forest of folklore and fantasy but rather an updated take on this classic motif, interpreted through the lens of a contemporary art experience – enhanced by DJ Dylan Sparkle's spinning of an eclectic mix of tunes and by rustic yet elegant floral arrangements courtesy of the Home and Garden Unit.
Fountain House Gallery Director Ariel Willmott said to the assembled guests, "The work done within our walls does not remain there. The artists bring their passion into the community to inspire others. Guests at Mad About Art and at our Gallery exhibitions experience the hope, sadness, joy, protest, compassion and most importantly the humanity expressed in the artworks. This creates a ripple effect that transforms the way people think about mental illness and the potential of artists to change hearts and minds."
Fountain House Gallery and Studio Director Ariel Willmott
Fountain House President and CEO Dr. Ashwin Vasan, who recently took the helm of our organization, was on hand for his first Mad About Art experience. He graciously addressed the gathering, speaking of the inspiring Fountain House legacy and of building upon that foundation with strategic plans for the future.
The evening's featured artist was Miguel Colón, known for his bold, large-scale works, including a billboard in Brooklyn and a mural currently on view at First Street Green Art Park in Manhattan. Audience members at the event were wowed as they viewed a profile of Miguel that recently aired on the prestigious PBS NewsHour.
Fountain House Gallery supporters Gerry and Melissa Uram
Although the art auction was conducted electronically, professional auctioneer Peter Costanzo led a live auction of luxury items. A rousing Paddle Raise resulted in additional funds to support the programs of Fountain House Gallery and Studio.
Mad About Art honored two recipients of the Esther Montanez Leadership Award: Carl T. Hagberg, Chairman of Carl T. Hagberg and Associates, a Fountain House Board member and Vice Chair of the Fountain House Gallery Advisory Board who has facilitated numerous employment opportunities for FH members; and Stephen Siegel, Chairman of Global Brokerage, CBRE, who sits on numerous nonprofit boards and has endowed fellowships at various leading institutions. The Award, established to honor the memory of Fountain House Gallery's Founding Director, is presented in recognition of exemplary service to the Gallery. Many longtime members and staff remember Esther Montanez, who was affiliated with Fountain House for more than 40 years and was a tireless advocate for people living with mental illness until her passing in 2006.
Honorees Stephen Siegel and Carl Hagberg with Fountain House President Ashwin Vasan
As the event drew to a close, volunteers in the "Wrapping Room" prepared artworks to be ferried home by the fortunate winning bidders. Many thanks to these volunteers and to all who contributed their time, talents, and good will. Kudos to the gifted artists of Fountain House Gallery, whose work was the centerpiece of this magical evening.
The Mad About Art artists were: Christine Albane, Gavin Dubblex Alleyne, Elizabeth Atlas, Lyn Barlotta, Susan Baus, Laurie Berenhaus, L.B. Berman, Linda Bienstock, Cynthia Blumberg, Catherine Borisov, Elizabeth Borisov, Laurel Burns, Jose Carcamo, George Peñón Cassallo, Tony Cece, Jenny Chan, Martin Cohen, Miguel Colón, Bernadette Corcoran, Richard Courage, Patricia Cresswell, Osvaldo Cruz, Donna Faiella, Ann Fischman, Sally Fisher, Nelia Gibbs, Guiomar Giraldo-Baron, Jonathan Glass, Lita Goldberg, Glenn Goldstein, Maybellene Gonzalez, Bryan Michael Greene, Jorge Pablo Hernández, Shelia Horne, Issa Ibrahim, Roger Jones, Ariella Kadosh, Louise Kavadlo, Ashwood Kavanna, Mercedes Kelly, Jayce Kim, Peter Lasher, Raymond Lopez, Marina Marchand, Vilan Natanzon, Debra Nevin, Lily Ng, Loraine Nicholetti, Sasha P.W., Gary Peabody, Saverio Penza, Annette Phuvan, Kathy Pieper, Lewis Pujol, Aracelis Rivera, Alaphia Robinson, Angela Rogers, Rene Santiago, Barry Senft, Gail Shamchenko, Gytis Simaitis, Jasmine Soto, Susan Spangenberg, Deborah Standard, Greg Stanger, Bradford Scott Stringfield, Don'aë Tate, Robin Taylor, Maura Terese, Marissa Tjartjalis, Eva Tortora, Jeanne Ungar, Alyson Vega, Ella Veres, Laura Anne Walker, Boo Lynn Walsh, Valerie Wax, and Lydia Weil.