We See You
1/21/2020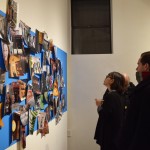 We See you
By: Camille Tibaldeo
Fountain House Gallery's first exhibition of 2020 is We See You, which opened with a Reception on January 9. For this show, Fountain House Gallery artists were asked to photograph the West-40s environment of the Gallery and of Fountain House, as well as the wider Hell's Kitchen neighborhood that is their vibrant extended community.
At the opening, it was entertaining to observe as attendees recognized the subjects of many of the photographs on display, ranging from Fountain House members and settings to images of local landmarks such as the aircraft carrier Intrepid at Pier 86 and the super-sized pig stationed outside Rudy's Bar and Grill, Ninth Avenue's historic dive bar. Also in the mix are images of the street life that abounds in this bustling expanse of Manhattan. The exhibit is set off by a custom paint job of brightly colored panels on the Gallery's walls, devised by the curator and executed with precision by Fountain House member Happy Jones.
Photograph by Susan Sasson
We See You is curated by Frank Maresca, Director of the prestigious Ricco/Maresca Gallery and an invaluable member of the Fountain House Gallery Advisory Board, who said, "This exhibition presents a slice of the Fountain House milieu, and the mental health community at large, as seen through hundreds of photographs by more than 35 Fountain House Gallery artists. We See You is curated in a purely democratic manner, including all who submitted work in the open call. The installation plays with the CMYK color model—the building block for every color print—to illuminate the accessibility and spontaneity of the work, while also serving as a metaphor for the rainbow of lives growing under the wings of Fountain House."
Maresca also said, "Everyone in this collective of artists is essentially a co-curator, because they've selected a part of their neighborhood and represented it visually; I just focused their vision. All the images included in this exhibition very effectively convey the full spectrum of what I look for in a photograph: the play of light and shadow, humor, humanity, and the fleeting moments or details that often get lost in the flux of the urban landscape."
Photograph by Guiomar Giraldo-Baron
Each photograph presented in the show is sized at 8 by 10 inches and is priced at a budget-friendly $30.00.
We See You will remain on view through February 19.