A Visit to Fountain House Studio
2/11/2020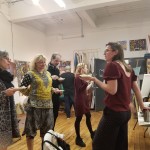 A Visit to Fountain House Studio
By: Richard Courage
Fountain House Gallery, the premier creative outlet for FH member-artists, has a studio in Long Island City, where these artists can create their wonders. On Tuesday, February 4th, Fountain House Studio held an open house for a night of art viewing celebrating artists who've just completed a two-month residency. A few weeks before, I had asked Elliott Madison, the FH program director, if he'd like to attend. He said OK, so I gave him a colorful flyer which he immediately lost. "Send me an email," he said...so I sent three, just to be sure. February 4th came; Elliott and I put on our coats and off we went.
The N train whisked us to Queensboro Plaza, and we chatted about the imminent FH media unit while we hiked the half a mile to the Studio. We stopped at the family-owned Crescent Street Deli so I could get a coffee and Elliott could get his ever-present bottle of Coke. Outside the front door we ran into Sasha P.W., a talented young artist who creates wonderful, imaginative murals in acrylic and pastels. A bundle of positive energy, Sasha bummed a Newport from me and we both smoked while Elliott vaped, and after a little light conversation about films and football we went in to see the wonders and the wonderful FH folks.
We expected a great showing, and the artists did not disappoint. Don'aë Tate, a creator of magical, neo-classical pieces, was sitting by her evocative artworks munching some fresh falafel. Shelia Horne, a wizard of resin sculpture, was busily working on a new creation. I admired the acrylic Transformer homages, deftly made by Rene Santiago, that adorned one wall. Bernadette Corcoran had a table chock full of brilliant abstracts bursting with color. Bernie looked very serene, sitting amidst her wonders, sipping tea.
Christine Albane filled a corner with splendid work, some in felt, some painted, all awash with color and very emotionally appealing to the eye. Boo Lynn Walsh was absent from the festivities, but her little corner of the studio was an oasis of masks, drawings and paintings galore. True marvels to behold, including her fabulous lit-up resin sculptures.
Elliott was impressed by how every inch of space in the Studio was brilliantly utilized, and truly touched by the artists' stories of how important the Studio space and community has been to their recovery. The seltzer flowed, the artists showed, and a great time was had by all.