Farewell to Ariel Willmott
3/2/2020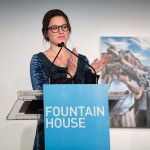 Farewell to Ariel Willmott
By: Rich Courage
Artist Alyson Vega with Ariel Willmott
On February 28, 2020, a light will go out at Fountain House Gallery. No, we paid the electric bill! There's another, more precious kind of light leaving the Gallery. Ariel Willmott is leaving for other pastures.
Here are a few words with her before she leaves us.
Rich: What is your name and what is your Fountain House Gallery title?
Ariel: Ariel Willmott, current Gallery and Studio Director at FH.
Rich: How long have you held this position?
Ariel: It would have been 7 years this June that I've been working at FH.
Rich: Seems like yesterday, right?
Ariel: It also seems like 20 years ago at the same time. It all went by in the blink of an eye but also felt like an entire lifetime.
Rich: I hope it was a good lifetime.
Ariel: Amazing. It was so rich with excitement, creativity, inspiration and passion…
Rich: And that's just the UPS deliveries.
Ariel (laughing): Yes! Surprises galore!
Rich: After seeing all this wonderful art for so many years, what are some of your favorite colors?
Ariel: I really like a pink-y, maroon kind of color and I enjoy many earthy tones in my clothing, but I also like a very retro teal, kind of like the color of the Mediterranean Sea.
Rich: What have been some of the rewards and challenges of being Director of Fountain House Gallery?
Ariel: it has been endlessly rewarding. Each day I am reminded of the gifts of this position through the interactions with the artists, who are wildly intelligent, incredibly inspirational...their creativity is beyond anything you can imagine, and this experience has brought so much joy and energy into my life. Endlessly rewarding.
Challenges? Well, you know anything that has high highs can have some low lows. I mean, that's life, if you have huge positives, there's a flip side to that, like you see at Fountain House, where people bring you so much suffering, it can be really hard feeling powerless over that. Realizing you can only do so much for people, it can be up to whatever higher power to help that suffering person through their journey.
Rich: Well, I can attest that as Director of the Gallery and as a person you have helped a lot of people on their journeys.
Are there any exhibitions or events that stand out in your memory?
Ariel: There are so many favorites. I think participating in the Outsider Art Fair always comes to mind. All you do all day is talk to hundreds and hundreds of people that are so excited about all the art you are showing. The Outsider Art Fair is an international art fair, which highlights artists' work outside of the mainstream, came out of folk art, and encompasses progressive studios like ours. Being able to present our artists in that international arena and see the formal affirmation the mainstream art world gives to our artists is amazing, and I think they all deserve it.
Rich: Any favorite Gallery shows?
Ariel: That's so hard. Sasha Nicholas curated a portraiture show, About Face, where one part of the show was all self-portraits, like 50 self-portraits of the artists, and we highlighted four artists who primarily worked in portraiture, like Anthony Newton, Marina Marchand, Gary Peabody. I really enjoyed looking at that show. I also loved the annual Small Works show. I love cute little things, and all the artists got to participate. Really fun. Huge range of work and mediums and it shows during Christmas time. It's our most successful show and I love to see our artists sell because it boosts their self esteem and financially it's nice to get that extra check for the holidays.
Fountain House Studio in Long Island City: It's been the number one highlight of being here, being a part of that new program, seeing it flourish the way that it has. I'd always imagined what it would be like to have our supporters to get that intimate feel of the art process and of being in that creative space. The Studio has made that connection come to life. There is a great deal of joy and excitement because of the Studio, for the artists and the people trying to understand our program.
Rich: Any achievement you're most proud of?
Ariel: The thriving Studio is what I'm most proud of.
Rich: You were integral in creating the Studio, weren't you?
Ariel: I would say so. The artists needed a space to work, and Studio One with Karen Gormandy had been flourishing; people loved to work there with her. With the Board's help, we reached out to foundations and acquired funding.
Rich: Any famous last words for your adoring public?
Ariel: I would just say that Fountain House Gallery is great. It's a beautiful space in which to show tremendous artwork in a fully professional space. To have a community of artists, you need to be able to have a space where people can express and share with each other and learn about materials and express ideas. Before the Studio, FH didn't have a community to support artistic creativity, and now the Studio feeds into the success of the Gallery. We now have this whole holistic way of supporting artists. We can support them from when they make their very first line on the paper until they are ready to show their work in another gallery. Everybody needs the power of community. The deep practice of sharing, expressing, creating your art among your peers, that's connecting on a whole other level. It becomes a circular cycle where the Gallery benefits the Studio because the artists in the Studio know there's s a gallery to show their work in, and the Gallery benefits from the Studio's tremendous work. The community becomes doubly powerful.
Rich: Any thoughts about the 20th anniversary of the gallery?
Ariel: It's going to be an awesome celebration. Twenty years is a major milestone. It is a great moment for the organization to look ahead, to dream big, to think about what they need, for the artists to be acknowledged for all that they have brought to FH over the 20 years the Gallery has been in existence….and the major contribution to the greater NY arts community, and how the Gallery has fed into FH as well.
Rich: You've accepted a position as the Arts and Culture Program Coordinator at Two Trees and the Walentas Family Foundation. What will that entail?
Ariel: I will be working for their philanthropic divisions. I will still be supporting the arts community but it will be different.
Rich: What are you going to miss most?
Ariel: This was more than just a job for me. There's no place like Fountain House. I will be the number one FH Gallery/Studio fan going forward. What I have been given because of this job at FH is more than I can ever articulate in words. What I've learned, the experiences I've had, the wonderful people I've met...I'll carry Fountain House with me for the rest of my life.