Art in Quarantine: Online Exhibition
6/5/2020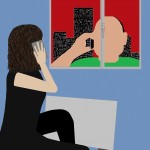 Art in Quarantine: Online Exhibition
By: Camille Tibaldeo
Fountain House Gallery is currently presenting the online exhibition Art in Quarantine. The show, which features more than 100 original works, is now on view at: https://www.artsy.net/show/fountain-house-gallery-art-in-quarantine-1. In keeping with the "shelter in place" order necessitated by the COVID-19 pandemic, Fountain House Gallery, Fountain House Studio, and parent organization Fountain House are closed until further notice.
An opening reception for Art in Quarantine was held via Zoom on May 29, 2020, during which Fountain House Gallery Interim Director Amanda Suárez led the more than 60 attendees on a "virtual" tour of the show. A number of artists spoke about their pieces, providing insight into aspects of their work such as process and subject matter. The artists who presented this illuminating commentary were: Cynthia Blumberg, Renee Bray, Joe Chundak, Sally Fisher, Maybellene Gonzalez, Bryan Michael Greene, Issa Ibrahim, Raymond Lopez, Robert Mueller, Angela Rogers, Rene Santiago, Susan Spangenberg, Jhoan Suriel, Ella Veres, and Laura Anne Walker.
Social Distancing by Maybellene Gonzalez
Fountain House Studio Coordinator Karen Gormandy said, "During this period of isolation, the member-artists of Fountain House have explored what 'art in quarantine' looks like. While sheltering in place, we find ourselves in our own company, away from the sights, sounds, and all sensory memories that informed us that we are connected to each other. We've lost track of time and worked at not losing track of ourselves. To reconnect, we have found ways to make art. Fishing around for tools, we searched for paper, paint, or wire, old books, spices for pigment, scissors, foil. We examined how we could manifest the artistic impulse. We looked outward or inward for inspiration. We bounced around in our heads and couldn't focus. Looking inward, we were confronted with a new fear or a certain beauty. We gazed longingly out the window and wished we could go about our business. We looked in and away from the mirror. We discovered beauty that was always there—a beauty that lived in our memory or presented itself in front of us, in our confined present. The mundane became profound. We reached for our art in whatever place we could find it. It was captured, it was what we wanted or didn't. It didn't matter; it is what we have."
Reality Lockdown by Laura Anne Walker
While the customary activities of Fountain House Gallery and Studio are suspended, Gormandy has been conducting frequent, ongoing studio workshops for artists via Zoom. Among the topics addressed have been color mixing, working in watercolor, and anatomical drawing technique. Selected sessions focus on critiques of artists' work. Recently added to the mix: weekly meetings that explore various facets of art history. All studio sessions are open not only to Fountain House Gallery artists but also to the wider Fountain House community.
The Terror from the Virus II by Raymond Lopez
Art in Quarantine showcases works in mediums including acrylic, watercolor, oil, pastel, mixed media, and digital photography. In addition to pieces created during the period of sheltering in place, the exhibition includes selected works made previously.
Masked Woman Downtown Manhattan by Maura Terese
If you have not yet viewed Art in Quarantine, tour this multifaceted array of artworks at your leisure – and enjoy!