Let America Be America: Online Exhibition
10/8/2020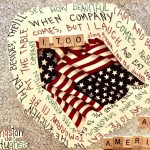 let america be america
By: Camille Tibaldeo
In this election year, when many Americans are raising their voices in pursuit of social justice, Fountain House artists raise their diverse artistic voices in Let America Be America, an exhibition exploring the meaning of "We the People." The show, inspired by the Langston Hughes poem "Let America Be America Again," can be viewed online at: https://www.artsy.net/show/fountain-house-gallery-let-america-be-america.
80's to 20's USA by Shelia Horne
An opening reception for Let America Be America was held via Zoom on September 25, 2020. We were honored to be joined by two special guests: Fountain House President and CEO Ashwin Vasan, MD, PhD, who provided a moving reading of the Langston Hughes poem and discussed social justice and inclusiveness; and Frank Maresca, Fountain House Gallery Advisory Board member and Director of Ricco/Maresca Gallery, who spoke about art and the creative impulse. Artists on hand to share insights into their work were: Judith Berman, Zeus Hope, Shelia Horne, Issa Ibrahim, and Susan Spangenberg.
Black Womanhood: The Whole Within I by Alaphia Robinson
The exhibition is curated by Fountain House Studio Coordinator Karen Gormandy, who said, "To know the work of Langston Hughes is to know the soul of America and to feel America in our hearts. In 'Let America Be America Again' he beautifully and tragically portrays the struggles and the triumphs of the common man and points to who that common man is: the 'We' whose ancestors came to this country as slaves from the banks of Africa, as well as Native Americans, immigrants hailing from numerous lands, working people, youth, and more."
Survival of the Hungry by Issa Ibrahim in collaboration with Susan Spangenberg
The concept of "We" is reflected in Susan Spangenberg's Becoming KALI, with its figure swathed in multinational flags alongside a segment of the Stars and Stripes, and in Kelly Han's Street Preacher. In his This is a Police State, Raymond Lopez boldly confronts the issue of law enforcement excesses. I, Too, Am America is Zeus Hope's powerful declaration of the quest for inclusion; Maybellene Gonzalez's Wearing Rainbows features a brown-skinned woman fixing her gaze on the viewer through rainbow-hued spectacles. In the photograph American Rose, Eva Tortora depicts a discarded, trodden-upon flower. Angela Rogers's Tarot-inspired Untitled 3 gives a tip of the hat to the "We" who embrace the mystical.
Yearning To Breathe Free by Donna Faiella
Let America Be America showcases more than 60 works in mediums including acrylic, watercolor, collage and mixed media, and digital photography.
About Langston Hughes (1902 – 1967)
James Mercer Langston Hughes is often referred to as "America's Poet." Born in Joplin, Missouri, Hughes was not only a poet but also a social activist, a novelist, a playwright, and a columnist. A resident of New York City, he was known as a leader of the Harlem Renaissance. Both of his paternal great-grandmothers were enslaved Africans, and both of his paternal great-grandfathers were white slave owners. Hughes was at various times in his life a Merchant Mariner, a busboy, a world traveler and an accused Communist who in 1953 was called before the Senate Permanent Subcommittee on Investigations. Hughes's ashes are interred beneath a floor medallion in the middle of the foyer in the New York Public Library's Schomburg Center for Research in Black Culture in Harlem. The design on the floor is an African cosmogram entitled Rivers. The title is taken from Hughes's poem, "The Negro Speaks of Rivers." Within the center of the cosmogram is the line, "My soul has grown deep like the rivers."
If you have not yet viewed Let America Be America, treat yourself to a virtual tour of this striking and diverse exhibition!