Fountain House Gallery Collaboration with the Columbia-WHO Center for Global Mental Health
1/4/2021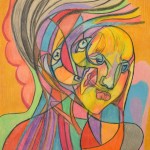 Fountain House Gallery Collaboration with the Columbia-WHO Center for Global Mental Health
By: Camille Tibaldeo
The Columbia-WHO Center for Global Mental Health is committed to partnering with artists to work toward shared goals of challenging the stigma of mental illness, elevating the voices of individuals with lived experiences, and improving the quality of mental health care worldwide. As a component of these efforts, the Columbia-Who Center has been showcasing artwork by Fountain House Gallery artists on their internal training platforms.
Fountain House Gallery artists whose work is featured on these platforms are: Azure Bourne, Ann Fischman, Guiomar Giraldo-Baron, Roger Jones, Gary Peabody, Barry Senft, Gail Shamchenko, Susan Spangenberg, Greg Stanger, Robin Taylor, Maura Terese, and Laura Anne Walker.
In recognition of this collaboration, the Gallery has posted an exhibition of works by participating artists at: https://www.artsy.net/show/fountain-house-gallery-the-columbia-who-center-for-global-mental-health-collaboration.